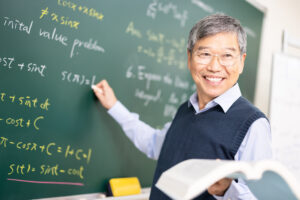 Has your dentist recommended the extraction of one or more of your natural teeth? If you need a replacement that you can rely on, talk to your provider about the possibility of a biocompatible dental implant. This solution derives its strength from an amazing connection between your jaw and an elegant prosthetic, allowing you to smile and chew again with the confidence that you deserve.
With our team of prosthodontic experts in Livonia, MI, you have the opportunity to face your instance of tooth loss head-on with a gorgeous new dental implant. Not only do these prosthetics look wonderful, they are also designed to last. Dental implants are a solution that can handle the rigors of daily use. When you need a reliable replacement for your missing tooth, talk to your dentist about all the advantages of a dental implant, and see if this is the solution for you!
How Dental Implants Provide You With Prosthodontic Stability
The dental implant placement process centers around a sturdy titanium post that your provider places within the bone of your jaw. Interestingly, this metal has a special relationship with the human immune system, which cares for your new post as if it were part of your own body. Rather than rejecting the titanium, your jaw grows snugly around the threads, creating a strong foundation for the placement of a dental prosthetic.
After your short period of recovery, your provider will attach a custom new prosthetic tooth to the post, giving you a new replacement tooth that is capable of chewing and biting. This biocompatible solution gives you the opportunity to regain your confidence in your smile!
A Lasting And Versatile Option With Dental Implants
In addition to their strength, dental implants give you the ability to transition into a whole mouth prosthodontic solution more smoothly than with some other forms of repair. Since your dental implant post provides the foundation for your repair, different prosthetic attachments can connect to your jaw. Even if you only require the replacement of a single tooth now, you may need a more extensive repair in the future.
This option gives you the opportunity to age with grace, as well. As you grow older, you become more susceptible to tooth loss. Dental implant posts can be used on multi-tooth prosthodontic repair, up to and including a full set of implant-retained dentures!
Learn More About Dental Implants With Dr. Stewart, DDS in Livonia, MI
If you are in need of a prosthetic tooth replacement solution, talk to your dentist about all of your possible options. For more information on how a dental implant could be the right choice for your smile, give us a call at (734)425-4400 and speak with Dr. James R. Stewart, Jr, DDS!