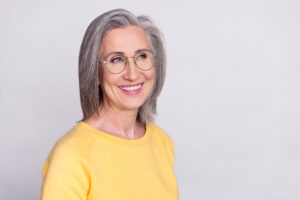 If you have recently lost one or more of your existing teeth, you may be a little overwhelmed at all of your options in prosthodontic repair. When you experience tooth loss, take the time to speak with your trusted dental professional about the methods available to you so that you have a clearer understanding of the choices available to you. One of these possibilities is a beautiful and sturdy dental implant, which derives its strength from an unparalleled connection to your jaw.
At our office in Livonia, MI, we proudly offer biocompatible dental implants to replace your missing teeth. This process uses a strong titanium post that your dentist will place within the bone of your jaw. As you heal around the threads in the metal, you create a stable new foundation for the attachment of a new prosthetic tooth. Your dental implant will be able to withstand the daily strain of chewing and speaking, allowing you to continue to have a functional smile. Your tooth loss is not the end of the story, so talk with your provider about a new implant!
Dental Implants Use A Specific Biochemical Mechanism To Create A Secure Bond
Placing a new biocompatible dental implant centers around a titanium post within the bone tissue of your jaw. In order to understand this process, you need to know a little bit about a special property associated with this metal. Your immune system recognizes titanium as if it were part of your own natural body, rather than a foreign object. This happens through a biochemical mechanism known as osseointegration.
Your implant post will serve as the foundation for your new prosthodontic solution. During your short recovery period, your jaw will grow snugly to the threads in the metal, forming a strong bond that can withstand the rigor of daily use.
Dental Implants Help You Adapt To Age-Related Tooth Loss
As you age, you become more susceptible to the loss of your natural teeth. This can happen as a result of a few different factors, including the reduction of bone mass and density from osteoporosis. If you have lost a tooth and are anticipating the need for a larger solution, dental implants are a versatile option. In fact, implant-supported dentures are an amazing new process that uses a set amount of posts to hold a full prosthetic. Typically requiring four posts per jaw, you can have a sturdy solution that harnesses dental implant technology!
Learn More About Dental Implants With Dr. Stewart, DDS, in Livonia, MI
When you need a replacement tooth that lasts, talk to our team about how dental implants could help you. Give us a call at (734)425-4400 and speak with Dr. James R. Stewart, Jr, DDS.