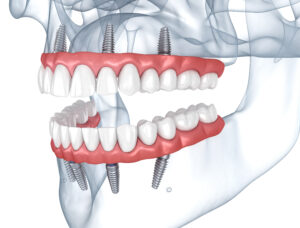 Dentures are an effective way to address major or total tooth loss. Securing them with dental implants could provide a number of additional benefits, and ensure they can last for many years to come. In today's blog, your Livonia, MI, dentist talks about our options for securing a set of dental implant dentures.
The Benefits for Your Smile
When you lose the majority of your teeth, this impacts so many aspects of your life. You could have trouble eating your favorite foods, or any solid foods. Speaking clearly could be difficult, and you could avoid social interactions due to embarrassment regarding your appearance. You could also develop a prematurely aged appearance! This happens as the body suspends the flow of calcium and phosphates the bone tissue around the missing tooth roots. Without these nutrients, the bone breaks down and this leads to an older appearance, with sunken cheeks and a ptotic chin likely to occur. But with dental implant dentures, we can not only secure a set of prosthetics, but do so in a way that preserves your facial structure!
Traditional
With a traditional option, we will extract the last few teeth and design a prosthetic based on the digital images we take of your smile. We then use digital technology to guide between six and eight dental implants per arch. These will bond with the jaw like natural roots. We then connect an abutment to the post once the placement area heals, usually after a few weeks or months. The custom-made denture is then connected to it to ensure a full and beautiful smile.
Mini and All-On-Four
We also know that if time elapsed between the loss of your teeth and when you see us, your jawbone could weaken and you could be unable to support traditional implant dentures without first rebuilding the jaw with grafting or sinus lifts. However, we have an alternative, including options that can include the placement of the implant post and the connection of the finished prosthetic in the same appointment! Mini Implants are smaller and more economical posts placed at an angle to support your new teeth. We could use also use All-On-Four, which supports complete dentures with only four posts per arch. These can protect and preserve your smile, last for decades, and be completed in only one visit.
If you have any questions about tooth replacement, then contact our team today to learn more.
DO YOU HAVE QUESTIONS ABOUT FIXED PROSTHETICS?
We want to help you enjoy a full and attractive smile once again. To learn more about our options for fixed prosthetics, then call James Stewart, DDS, dental implant office in Livonia, MI, at (734) 425-4400. We also serve the residents of Farmington, Plymouth, Dearborn Heights, and all surrounding communities.