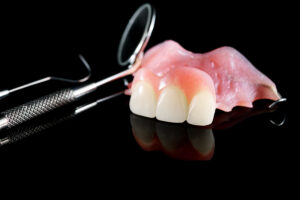 When a bridge isn't enough to address the gaps in your smile, but you don't have a case severe enough for a full denture, we could help with a partial. Instead of removable only options, we can secure them with multiple dental implants. In today's blog, your Livonia, MI, dentist talks about implant partial dentures.
When a Smile Needs a Partial
As we touched on above, a partial is essentially a denture that addresses the complex cases of tooth loss, the ones too advanced for a bridge, but not severe enough to warrant a complete denture. These contain new teeth designed to fit comfortably in the gaps in your smile. Placing them can help prevent the major complications of tooth loss, such as misalignment, bite imbalance, jaw joint strain, trouble speaking clearly, and issues with eating a variety of foods. When you have lost several teeth, even if years have elapsed, you should still let us know. We can start the process of treating your tooth loss now, helping you greet 2023 with a full and stunning smile.
The Placement of Dental Implants
Instead of removable options, which need to be replaced every 5 to 10 years and could slip, we can offer a fixed option that lasts for decades or even a lifetime in some cases. First, we will carefully examine the smile with digital x-rays and intraoral cameras to plan the placement of multiple dental implants, inserting them to the jawbone where they bond with the bone structure. This means they act as new roots! We then attach the completed denture to these posts with abutments, so you have a partial set that never skips, doesn't need to be removed for cleaning or speaking, and can last far longer than removable options.
Ensuring a Lifelike Appearance
We take time to ensure your partial will look natural and blend with the rest of your smile seamlessly. The prosthetic will be crafted based on detailed digital impressions we create of your smile. We use lifelike materials, such as acrylic for a base that looks like gum tissue if needed, and teeth made from ceramic. Ceramic not only offers the same translucent appearance as natural enamel, but this can be shaded to blend with the smile too. If you have any questions about addressing your missing teeth and offering a full smile before the year ends, then give us a call.
DO YOU HAVE QUESTIONS ABOUT ADDRESSING MISSING TEETH?
Our team wants to help you enjoy optimal oral health and a full smile. To learn more about treating major cases of tooth loss, then call James Stewart, DDS, dental implant office in Livonia, MI, at (734) 425-4400. We also serve the residents of Farmington, Plymouth, Dearborn Heights, and all surrounding communities.