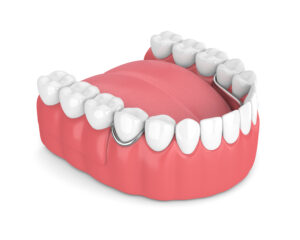 We don't just support bridges and full dentures with dental implants. Our team can also address more complicated cases of tooth loss with a fixed partial. In today's blog, your Livonia, MI, dentist talks about how we support partials with our dental implants. No matter how complex your tooth loss situation is, we have options to help restore your smile.
When a Partial is Right for Your Smile
A partial denture is one that is meant to fit in between your natural teeth, filling gaps and preventing negative changes to your smile's alignment and healthy. These address complicated cases of tooth loss, addressing gaps spread out across your smile for cases too severe for a bridge but not serious enough to require a full prosthetic. To begin, our team will examine the smile and may recommend treating underlying issues that could threaten dental implants, such as gum disease. We then take detailed digital images, which we use to aid in the design and fabrication of your prosthetic. The denture will contain new ceramic teeth set in an acrylic base that looks like gum tissue. We shade these teeth to ensure they blend with the smile.
Securing Them With Dental Implants
Typically, these will be held in place with metal clasps that attach to natural teeth and secure the denture, which then last about 5 to 10 years on average. They need to be replaced because the jaw ridge will change shape, as the body suspends the flow of calcium and phosphates to the jawbone. However, by inserting multiple dental implants, we stimulate the growth of jawbone tissue to strengthen the jaw. Your new teeth can now last for decades to come, possibly a lifetime. This will also be very stable and won't slip when you eat or speak, and you don't have to remove them for cleaning or soaking.
If you have any questions about addressing minor or complex cases of tooth loss, then contact our team today. With implant dentistry, we can replace a single lost tooth, or even secure a full set of dentures. With All-On-Four and TreFoil, we can even help smiles that have lost jawbone density over time! Don't live with tooth loss, enjoy better quality of life with the placement of a fixed prosthetic.
DO YOU HAVE QUESTIONS ABOUT IMPLANT DENTURES?
Our team is eager to help you enjoy a full smile that looks great too, so you can enjoy optimal quality of life and talk without concern again. To learn more about replacing multiple missing teeth with implant dentistry, then call James Stewart, DDS, dental implant office in Livonia, MI, at (734) 425-4400. We also serve the residents of Farmington, Plymouth, Dearborn Heights, and all surrounding communities.