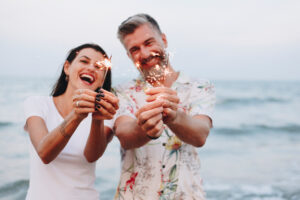 Do you have any goals and resolutions for 2023? If so, we hope you consider your smile. If you suffer from minor or even advanced tooth loss, there is still an opportunity to rebuild your smile with dental implants. In today's blog, your Livonia, MI, dentist discusses a new smile with implant dentistry.
Time to Take on Your Tooth Loss
When you lose natural teeth, this could mean major issues with your smile. For example, the gaps could make you feel self-conscious and embarrassed. These same gaps could limit your meal options or even make clear speech difficult. These spaces could also cause surrounding teeth to drift from position and lead to dental misalignment and with it, an increased risk of tooth decay and gum disease.
But the most severe complication is the loss of mass and density in your jaw. This is due to the body suspending the flow of calcium and phosphates to the bone structure around the missing root. Once this occurs, the jaw begins to break down, a process linked to further tooth loss and even a prematurely aged appearance. To preserve your facial structure and protect your smile, you need a tooth replacement option that protects your jawbone too.
Placing New Roots
Dental implants are small, screw-like posts made from titanium, which is biocompatible with your jaw. Once we plan the placement and guide these posts into your jaw, they sit at an angle and position that not only supports a new tooth or prosthetic, but stimulates the growth of jawbone tissue to prevent the breakdown in mass and density. As a result, you safeguard your remaining natural teeth, and also enjoy a new tooth that can last for decades to come, possibly even a lifetime!
Long-Term Benefits
First, they can look and act like natural teeth, providing years of quality replacement. You can eat your favorite foods again, and if you're supporting dentures with dental implants, you have a fixed option that never slips when you eat or speak. They're easy to care for, and we can even secure one or more in a single visit with Mini Implants or All-On-Four. Even if your jawbone has lost masa and density, we can often secure new teeth without the need for grafting or sinus lifts beforehand.
If you have any questions, then give our team a call today.
DO YOU HAVE QUESTIONS ABOUT IMPLANT DENTISTRY IN 2023?
We're ready to help you smile with confidence in the new year with a complete smile. To learn more about replacing your missing teeth, then call James Stewart, DDS, dental implant office in Livonia, MI, at (734) 425-4400. We also serve the residents of Farmington, Plymouth, Dearborn Heights, and all surrounding communities.