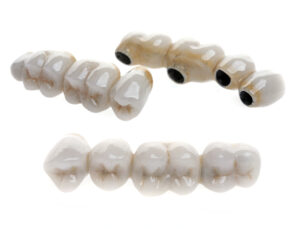 When you have tooth loss that requires a bridge, we could offer an option that lasts for many years to come. To accomplish this, we will attach a dental bridge to one to two dental implants. In today's blog, your Livonia, MI, dentist talks about how to replace missing teeth and ensure results that look natural.
The Dangers of Even Minor Tooth Loss
You may not think a single missing tooth is a very pressing issue, but the longer you go without treatment, the more likely it is that serious complications could arise. For example, the teeth around the gap could begin to drift from position, which causes misalignment and poorer oral health. The changes in your bite balance could strain your jaw joints, so painful disorders like TMD and bruxism (teeth grinding) could develop too. To avoid these issues, and improve the overall beauty of your smile, you need to seek tooth replacement.
Inserting the Dental Implants
For minor cases, we will use a dental bridge to address between two and four missing teeth on average. Instead of removing structure from natural teeth to support the crown portion of a bridge, we will instead insert dental implants into the jaw, usually one to two. These will be accepted by the body as natural roots and actually bond with the bone tissue. This prevents the loss of mass and density in the jaw that could mean further tooth loss down the tooth. Now, your prosthetic could last decades, instead of 10 years like traditional options.
Creating and Attaching Your Dental Prosthetics
The bridge portion will be created based on detailed digital images we take of your smile. We use these to design and craft a prosthetic that fits comfortably and also looks natural. A bridge consists of new teeth, known as pontics, with crowns attached to each end. We create them from ceramic, as this can absorb daily bite forces and also be shaded to look natural. The crown portions are then attached to the implants to secure the new teeth firmly in place.
If you have any questions about replacing missing teeth, then give us a call. There is still time to start treatment now, and use your remaining 2022 dental insurance benefits before they expire at the end of December. Let's greet 2023 with a whole and beautiful smile using our lifelike and durable dental prosthetics.
DO YOU HAVE QUESTIONS ABOUT TREATING TOOTH LOSS?
We would like to help you enjoy a complete smile again with implant dentistry. To learn more about custom dentures and prosthetics, then call James Stewart, DDS, dental implant office in Livonia, MI, at (734) 425-4400. We also serve the residents of Farmington, Plymouth, Dearborn Heights, and all surrounding communities.