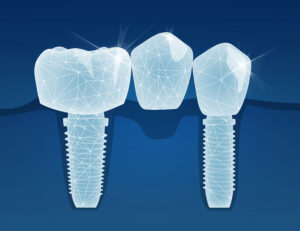 When you have a gap in your smile, one with one to four missing teeth, we could offer a bridge. Instead of just a traditional dental bridge, we could secure one with dental implants for greater stability and longevity. In today's blog, your Livonia, MI, dentist talks about securing bridges with dental implants.
Securing New Roots
Dental implants act as new roots, and in the process, they help protect your facial structure. You see, when we lose teeth, this causes the body to suspend the flow of calcium and phosphorus to the jawbone. Without these nutrients, the bone tissue breaks down and further tooth loss, along with an aged appearance, could develop. But since implant posts are made from biocompatible titanium, the body accepts them as natural and resumes the flow of calcium and phosphorus, preserving the jaw and the smile. We will plan and guide the placement with digital technology, inserting one or two at specific angles and positions to support a prosthetic and stimulate the growth of jawbone tissue.
Attaching a Custom Bridge
This will be crafted based on detailed digital impressions we take of your smile. The prosthetic will contain new teeth with a crown attached to each end. We create them from ceramic which is able to absorb daily bite forces and pressures, but can also be shaded to blend with the rest of your smile seamlessly. Once the post placement area heals, we will add abutments to the posts. This allows us to attach the completed prosthetic. You then have a dental bridge that looks great, preserves the balance of your bite, and has the potential to last for decade or even a lifetime in some cases!
Partial Dentures
What if you have actually have several gaps in your smile, too many to be addressed with a bridge but not enough to require a full prosthetic? In these situations, we can create a partial denture and again attach it to dental implants for durability and balance, and a natural appearance and function too. As with ridges, this will be fixed in place and won't need to be removed for cleaning and soaking, and can last for decades to come.
If you have any questions about how we address minor or severe cases of tooth loss, then contact our team today to learn more. We want everyone to enjoy full smiles!
DO YOU HAVE QUESTIONS ABOUT FIXED PROSTHETICS?
We would like to help address minor and severe cases of tooth loss with implant dentistry. To learn more about treating more advanced cases of tooth loss, then call James Stewart, DDS, dental implant office in Livonia, MI, at (734) 425-4400. We also serve the residents of Farmington, Plymouth, Dearborn Heights, and all surrounding communities.