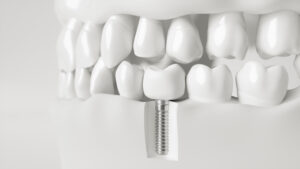 If you have a missing tooth, this could lead to a number of serious complications for the health, function, and appearance of your smile. To avoid these issues, we will secure a replacement with a dental implant. In today's blog, your Livonia, MI, dentist talks about placing a dental implant and crown.
The Cost of One Missing Tooth
A single missing tooth can be embarrassing, and could cause you to hide your smile from the world. But you could see other serious complications with your smile. For example, the gap could cause the nearby teeth to shift from position, causing misalignment. Poor alignment is linked to a higher risk of tooth decay and gum disease. The changes to the balance of your bite could also be a problem, leading to the potential onset of TMJ disorder and bruxism (teeth grinding). But the most severe consequence is the gradual breakdown in the jawbone, which is due to the body suspending the flow of calcium and phosphates to the jaw around the lost root. This could mean further tooth loss!
Dental Implants
A dental implant is a unique prosthetic option, in that we actually surgically insert a titanium post into the jawbone directly. Titanium is biocompatible, which means the post will bond with the jawbone and secure it like a natural root. This prevents the loss of mass and density, as your body resumes the flow of key nutrients. Not only does this prevent further tooth loss, this ensures your new tooth has the potential to last for decades to come! The position and angle we insert them at will be planned and guided with digital technology. Once in place, we will wait for the area to heal and then attach an abutment that extends above the gum line.
Crowns
The dental crown is the restoration portion, the part people see when you smile and the part that absorbs daily bite forces and pressure. We connect it to the abutment to secure it firmly in place. The crown will be custom-made to ensure it not only fits comfortably and preserves your bite balance, but that it looks natural and blends with the smile seamlessly. If you have any questions about how we address a single missing tooth, or if you would like to schedule an appointment with our team and use your 2022 dental benefits, then contact our team today.
DO YOU HAVE QUESTIONS ABOUT IMPLANT DENTAL CARE?
Our team is ready to help you enjoy a complete smile again with lifelike replacement options. To learn more about prosthetic dentistry, then call James Stewart, DDS, dental implant office in Livonia, MI, at (734) 425-4400. We also serve the residents of Farmington, Plymouth, Dearborn Heights, and all surrounding communities.