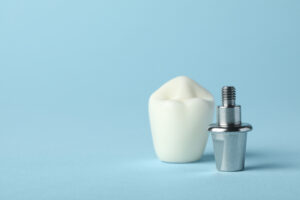 Dental implants boast a 90% success rate, and can offer quality tooth replacement for decades to come in some cases. But what makes them so durable and lifelike? In today's blog, your Livonia, MI, dentist talks about the three major parts of your dental implant, and how they provide such successful tooth replacement.
The Implant Itself
Unlike removable dentures and traditional bridges, these don't rely on clasps, crowns, or suction to stay in place. Instead, we surgically insert a biocompatible titanium post at specific angles and positions to support a new smile. This helps stimulate the growth of jawbone structure, preventing the loss of mass and density in the smile that usually follows tooth loss. As a result, you don't need to replace your new teeth every few years. They can remain in place for decades to come, or possibly an entire lifetime. The post is small and screw-like in appearance, but will act as a new root once inserted into your jaw.
The Abutment
For an individual tooth replacement, we will likely insert the post and then wait for the area to heal before moving forward. For others, in the same appointment we can move forward. Either way, the next step is to attach an abutment to the post, a small device that provides structure to attach your new restoration or a portion of your new prosthetic, bringing you that much closer to a full smile again.
A Restoration or Prosthetic
For an individual tooth, we will connect a dental crown to the post. The crown will be custom-made from materials like ceramic, using it can support daily bite forces and pressure. The same material can also be color matched to blend with your smile seamlessly. You will have a full, lifelike, and balanced smile again!
For multiple missing teeth, we could attach a bridge, partial, or even a full denture. With options like All-On-Four, we can provide teeth in a day, connecting the custom prosthetic on the same appointment so you leave with a full smile. If you have any questions about handling your missing teeth with implant dentistry, then contact our team to schedule a consultation. A visit now is a chance to use your remaining dental insurance benefits before you lose them at the end of the year.
DO YOU HAVE QUESTIONS ABOUT OUR DENTAL IMPLANTS?
Our team is eager to help you smile with confidence again by addressing your tooth loss, whether you have a minor or a more severe case. To learn more about replacing your lost teeth, then call James Stewart, DDS, dental implant office in Livonia, MI, at (734) 425-4400. We also serve the residents of Farmington, Plymouth, Dearborn Heights, and all surrounding communities.