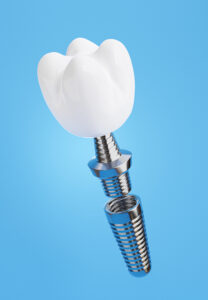 When you have one lost tooth, we can still offer a solution with a dental implant. Using a dental implant and a custom-made crown, we can provide a complete smile again! In today's blog, your Livonia, MI, dentist talks about how we create, plan, and secure a dental implant and crown.
Preparing Your Smile
First, we will need to take a close look at your smile to understand the cause and extent of your tooth loss. If you have underlying issues like gum disease, care to manage the disease may be needed before we can move forward. We also want to make sure there is enough jawbone tissue to support a new tooth. If so, we will take detailed digital images and x-rays, so we can plan the placement process to ensure a sturdy and long-lasting root, and a tooth that will function like a natural one.
Dental Implants
Our team will use advanced technology to plan and guide the dental implants into place, choosing optimal angles and positions to support a new tooth and stimulate the growth of bone tissue, safeguard your jaw's strength and structure. The posts will be made from titanium, which is biocompatible and acts as a new root. Once the area heals, our team will connect an abutment to the post. This will be crucial for the next step.
Dental Crowns
For an individual tooth, we will custom-make a dental crown. The restoration will be attached to the abutment, and act as the physical portion of your new tooth, the part people see. The material we use will ensure it can absorb daily bite forces, and we shade it to blend with the rest of the smile, so your new tooth looks natural. We can then discuss better oral health habits, such as daily brushing and flossing, and routine visits for checkups and cleanings, so we can monitor the smile and make sure your new tooth strong and healthy, and to help you avoid further tooth loss.
If you have any questions about addressing a single missing tooth, then let us know. Our team can also handle more advanced cases of tooth loses, using implant technologies to secure a bridge, partial, or even a full set of fixed dentures. You don't have to live with unsightly gaps in your smile and poor oral health!
DO YOU HAVE QUESTIONS ABOUT ADDRESSING TOOTH LOSS?
Our team is ready to help treat the gap in your smile with a lifelike and long-lasting dental prosthetic! To learn more about how we treat a single missing tooth, then call James Stewart, DDS, dental implant office in Livonia, MI, at (734) 425-4400. We also serve the residents of Farmington, Plymouth, Dearborn Heights, and all surrounding communities.