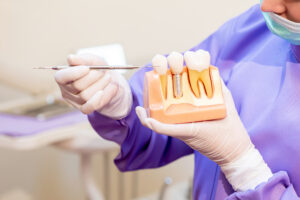 When you lose a tooth, a traditional dental bridge isn't your only option to address the exposed gap in your smile. Instead, we could offer a dental implant and a custom-made crown to provide a lifelike and long-lasting replacement option. In today's blog, your Livonia, MI, dentist talks about how dental implants and crowns replace lost teeth.
The Causes of Missing Teeth
When we lose our teeth, this could lead to misalignment, strained jaw joints, bite imbalance, and an increased risk of TMJ disorder and bruxism. As the jawbone around the missing root breaks down without regular doses of calcium and phosphorus, this also causes an older appearance and further tooth loss. The initial cause of your missing teeth could be related to untreated cavities and infections, injuries, or in most cases, advanced gum disease. When you lose a tooth, let us know right away. We want to help you smile with confidence, but also help preserve your facial structure, and the health and stability of your smile.
Filling the Gap
A dental implant isn't like other prosthetics. This involves inserting a biocompatible titanium post directly into the jawbone, where it bonds with surrounding bone structure. This acts as a new root and causes the body to resume the flow of calcium and phosphorus to the bone tissue. You preserve your smile, and your new tooth could last for decades to come. Filling the gap helps prevent complications with your smile, and preserves your oral health.
The Custom Dental Crown
Once we surgically insert the post and the placement area heals, we will focus on the visible portion of your new tooth. This means attaching an abutment to the post that extends above the gum line. We then connect a crown to it. The dental crown will be custom-made from durable materials like ceramic, which we can shade to blend with the smile seamlessly. This can also absorb daily bite forces and pressure. Your new tooth will look natural, and also restores function to your smile too. With proper care and attention, including daily brush and flossing and six-month visits for checkups and cleanings, we can help ensure your new tooth lasts for decades, or possibly even a lifetime!
If you have any questions about implant dentistry, then contact our team today to learn more.
Do You Have Questions About Replacing Missing Teeth?
We would love to help you enjoy the benefits of a dental implant and crown. To learn more about how we address missing teeth with a custom and lifelike option, then call James Stewart, DDS, dental implant office in Livonia, MI, at (734) 425-4400. We also serve the residents of Farmington, Plymouth, Dearborn Heights, and all surrounding communities.