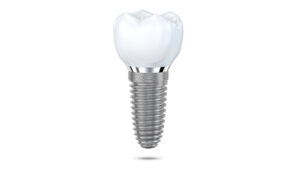 When you have missing teeth, whether this is a single tooth or the loss of most of your natural teeth, we can help with implant dentistry. To offer this with precision and accuracy, our team will implement a host of advanced technologies. In today's blog, your Livonia, MI, dentist talks about the technology we use to replace missing teeth.
Intraoral Scanning
We want to plan and guide the process with detail. Instead of taking a physical impression, we opt for a digital alternative. The Trios Intraoral Scanner will take a clear and detailed image of your entire mouth, and will do so quickly and comfortably. No need to bite down on molds or deal with sticky materials. The image allows us to choose the best position and angle to insert a dental implant post. We can also use the images to design the crown or prosthetic, ensuring the final results look natural and fit comfortably!
Lifelike Materials
What about the dental implants themselves? For the actual implant, we use biocompatible titanium to create the post. The body will accept titanium as natural root structure, so your new tooth bonds with the jaw like a natural root. This means your new tooth could stay in place for decades to come, or possibly even a lifetime! As for the visible portions, for an individual one, we can use options like ceramic to create a crown that looks natural, blends with the smile, and absorbs daily bite force. We could also create bridges, partials, and even full dentures from lifelike materials to ensure your results look natural!
Air Units
COVID-19 still poses a threat to many in our community, but we don't want your fears of the pandemic to stand between you and the healthy, functional smile you deserve. To ensure the safety of our patients and team members, our team employs Surgically Clean Air units. This device actually cleans and scrubs the air of impurities, such as viruses, bacteria, allergies, and more. This can help prevent the spread of illness when you're here for treatment.
If you have any questions about the technology we're using to keep you safe and offer lifelike results, then contact our team today. We would love to see you for your next checkup and cleaning, or to address concerns like tooth loss too.
Ready for a Full Smile?
Our team uses advanced tech to plan, oversee, and complete your tooth replacement procedure. To learn more about how we offer such lifelike and durable solutions for missing teeth, then call James Stewart, DDS, dental implant office in Livonia, MI, at (734) 425-4400. We also serve the residents of Farmington, Plymouth, Dearborn Heights, and all surrounding communities.