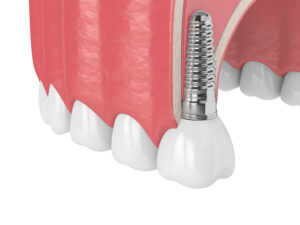 When we help people with minor or advanced tooth loss receive implant dentistry, we use advanced technology to help ensure proper placement and long-lasting tooth replacement. In today's blog, your Livonia, MI, dentist talks about how we use technology like digital scanning and air units to ensure lifelike results and keep you safe during visits!
Digital X-Rays
X-rays are essential for seeking what is happening beneath the gums, whether we're planning dental implant placement, or identifying the position of an impacted wisdom tooth that needs removal. To perform this diagnosis with accuracy and precision, we use digital x-trays, which employ less radiation than traditional systems. You also no longer need to bite down on uncomfortable bite wings anymore, and the images are available instantly chairside, no need to wait for a lengthy development process. We can even walk you through the diagnostic process!
Trios Intraoral Scanner
At one time, dental impressions to design restorations, prosthetics, and plan treatment meant you bit down on a mold filled with a sticky material. This was uncomfortable for patients, and often needed to be repeated to get a viable impression. But our team now uses a digital alternative! With the Trios Intraoral Scanner, we will create a series of detailed digital scans of your mouth, which we combine to create a digital impression that is far more accurate and precise. We can also match your restorations and prosthetics to your natural teeth, mimicking the shape and blending seamlessly with the smile. We can craft bridges, dentures, crowns, and implant-secured prosthetics with precision!
Air Units
We know that COVID-19 is still present in our country, and that many of our patients and their families have underlying health issues that make them vulnerable. Which is why we're so proud to include Surgically Clean Air Units in each of our rooms. These machines employ multiple filters and unique technologies to clean the air of pollutants, bacteria, viruses, pathogens, and more. This helps protect our team members and our patients, so everyone is safe in the office! If you have any questions about the technology we use as part of your treatment experience, then contact our team today. We would love to see you and your family for a checkup and cleaning visit in the future! With dental implants, we can correct minor and severe tooth loss for our patients.
Do You Have Questions About Our Technology?
We would like to help you enjoy a full and beautiful smile once again! To learn more about the treatments we offer for our patients with missing teeth, then call James Stewart, DDS, dental implant office in Livonia, MI, at (734) 425-4400. We also serve the residents of Farmington, Plymouth, Dearborn Heights, and all surrounding communities.