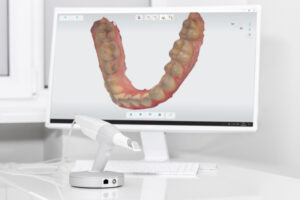 We always want to make sure that you feel comfortable and enjoy your time in our office. To accomplish this, we will often implement the latest technology, for diagnostic purposes and to create custom restorations and prosthetics, including dental implants. In today's blog, your Livonia, MI, dentist talks about our use of advanced technology.
Digital X-Rays and Intraoral Cameras
We want to obtain a clear and detailed picture of your oral health, so we can diagnose and address problems early. To do so, we will look at your teeth, roots, and jaw with digital x-rays. These use a fraction of the radiation, and don't need to be developed in harsh chemicals. Instead, images are available right away chairside, so we can walk you through the diagnostic process. We also examine the surfaces of your teeth and gums with intraoral cameras, again obtaining detailed pictures that allow us to diagnose problems in the earliest stages. For implant placement, this allows us to choose the best position and angle for your new teeth, and to guide their placement.
Intraoral Scanners
We don't need to rely on physical impressions to design restorations and appliances anymore. Instead, we will use a Trios intraoral scanner to comfortably and quickly gather multiple images of your smile from several different angles. We then combine these images into a 3D model of your smile, so we can use them to design crowns and other restorations that look and fit naturally. We also craft prosthetics, such as implant restorations, bridges, and dentures. We can also create clear aligners to correct misalignment, or appliances to treat issues like TMJ disorder and bruxism. But they're also key in placing and restoring your dental implants, so we can address minor and severe cases of tooth loss.
Cleaning Units
We want you to feel safe and secure when you visit our office. Which is why we've added Surgically Clean Air units to our office. These are devices designed to clean the air and destroy allergens, bacteria, and viruses, limiting your risk for COVID-19 and other illnesses that could spread in a room. This helps safeguard our patients and our team members, so you can begin the treatment your smile needs without worry.
If you have any questions about how we plan your treatment, create restorations and prosthetics, or keep the air clean and safe, then contact our team today to learn more. We want to help you and your family enjoy strong, healthy, and full smiles for years to come.
Do You Have Questions About Technology?
We would like to help you enjoy your time in our office and also remain safe and comfortable, which is why we implement the latest technological advances whenever possible. To learn more about the technology we use to help improve oral health, then call James Stewart, DDS, dental implant office in Livonia, MI, at (734) 425-4400. We also serve the residents of Farmington, Plymouth, Dearborn Heights, and all surrounding communities.