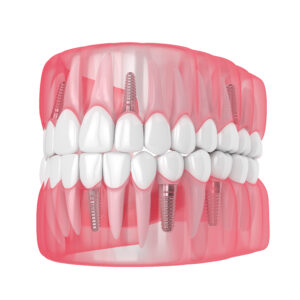 Why do we end up losing our natural teeth in some cases? Often, this is due to poor oral health, and over time, your missing teeth could mean trouble for your smile's health and appearance. In today's blog, your Livonia, MI, dentist talks about the factors behind tooth loss and the solutions we offer with implant dentistry.
Factors Behind Missing Teeth
We could lose our adult teeth to issues like advanced tooth decay or dental infection, which causes them to fall out or require removal to protect the rest of the smile. An injury that knocks them out or severely damages them to the point of extraction is also a factor. But the most common cause is the advanced stage of gum disease, known as periodontitis. This destroys the tissues that connect the teeth and gums, causing them to become loose and fall out. Since poor oral health and disease is the most common cause of missing teeth, regular visits to your dentist for a checkup and cleaning are a must!
Complications for Your Oral Hearth
When we lose our natural teeth, this leaves behind a gap in your smile. This gap could cause surrounding teeth to move from position, leading to dental misalignment and an increased risk of poor oral health, including tooth decay and gum disease. The changes to your bite balance and the strain on your jaw joints following tooth loss could also mean the onset of TMJ disorder and bruxism (teeth grinding). The body will also suspend the flow of calcium and phosphorus to the jawbone around the missing tooth. Without these nutrients, the bone tissue gradually breaks down, leading to further tooth loss and an aged appearance. You could also have trouble eating your favorite foods or even speaking clearly!
Dental Implant Solutions
With dental implants, we can replace a single missing tooth or seven secure a fixed set of dentures. Since implants bond with the jawbone and act like new roots, this means your body resumes the flow of nutrients and your new teeth can last decades. We also custom-make the crowns and prosthetics we attach to them to ensure your new teeth look natural and blend with your smile. If you have any questions about how we address missing teeth, or if you want to schedule a visit and use your 2021 dental benefits before they expire, then contact our team today.
DO YOU HAVE ANY QUESTIONS ABOUT IMPLANT DENTISTRY?
We would like to help you find the best solution for your tooth loss. To learn more about the dangers of losing your natural teeth, then call James Stewart, DDS, dental implant office in Livonia, MI, at (734) 425-4400. We also serve the residents of Farmington, Plymouth, Dearborn Heights, and all surrounding communities.