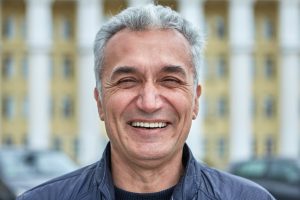 A removable set of dentures need to be taken out for maintenance, and could require replacement. However, we could offer a more secure option with fixed dental implant dentures. In today's blog, your Livonia, MI, dentist talks about the benefits of fixed dentures, and how we create a customized set.
Removable Prosthetics
A removable denture is essentially a full set that is held in place with suction for the lower arch, or the assistance of a special adhesive for the upper one. For partials, this could rely on metal clasps that connect to natural teeth. While effective, these options do require removal for cleaning and soaking each day, and they need to be replaced every five years as the jaw ridge will change shape with time. For a more secure and longer lasting option, our team could secure them with dental implants.
A Fixed Option with Dental Implants
Dental implants are actually inserted directly into your jaw. The biocompatible titanium post will act as a new root, and bond with the jawbone through a process known as osseointegration. Once this occurs, your root will stimulate the growth of surrounding bone tissue, which helps prevent changes to the jaw that could mean further tooth loss or an aged appearance. This also means that they can last for decades to come, maybe even a lifetime, instead of just five years.
Placement and Restoration
We first take detailed digital images and x-rays of your smile, underlying areas with sinus cavities and nerve tissues, choosing the best position and angle for the posts. We then guide these into place with surgical guides. Once they're inserted, we will be able to attach an abutment when the area heals. The abutments enter above the gum line, and are what we attach your custom-made prosthetic to. The denture portion is crafted to look natural and fit comfortably, and once affixed to the posts, will provide a durable replacement option that never slips when you eat or speak, and is ready to last for many years to come.
If you have any questions about how we create and secure a set of fixed implant dentures, or if you suffer from advanced tooth loss, then let us know. We will examine your smile to see if this is the right option for you, and will treat any underlying oral health issues responsible for your tooth loss.
DO YOU HAVE ANY QUESTIONS ABOUT YOUR NEW SMILE?
We would like to help address your missing teeth with a stable and natural-looking replacement option. To learn more about how we craft and secure a complete set of prosthetics, then call James Stewart, DDS, dental implant office in Livonia, MI, at (734) 425-4400. We also serve the residents of Farmington, Plymouth, Dearborn Heights, and all surrounding communities.