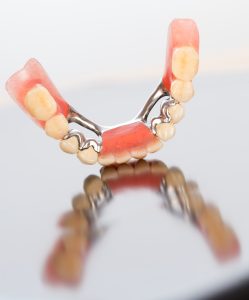 When you have more than one missing tooth, then a bridge or a removable partial denture may be prescribed. With implant dentistry, your Livonia, MI, dentist could use multiple dental implants or support a fixed and long-lasting dental bridge or partial denture. In today's blog, let's talk about these tooth replacement options.
Bridges vs. Partial Dentures
A bridge is a prosthetic that contains one or more pontics (replacement teeth) with dental crowns connected to each end. The crowns will then be placed on the natural teeth on either side of the gap, known as abutment teeth. Traditional options last about 10 to 15 years, and need replacement due to changes in the jaw ridge shape. While a bridge addresses a single gap of one to three missing teeth, a partial is a denture that handles multiple gaps across the smile. They will contain pontics set in an acrylic base that looks like gum tissue. Metal clasps will connect to natural teeth and secure the denture, which last about 5 to 10 years on average.
The Implant Placement Process
However! If we connect these prosthetics to dental implants, they will be able to remain in place for decades, possibly even a lifetime. Dental implants are biocompatible titanium posts we insert into the jawbone. Once in place, osseointegration occurs, bonding them with the jawbone. This stimulates the growth of jawbone tissue to prevent changes to the jaw ridge, allowing your new teeth to stay in place for many years to come.
Completing Your New Smile
Once your new posts are in place, we will attach abutments to each post that extends beyond the gum line, The custom-made prosthetic is then attached to the abutments, securing your new smile. The prosthetic will never slip when you eat or speak, and will never need to be removed for periodic cleaning and soaking. Instead, they act like natural teeth. Routine care is then needed, such as brushing and flossing, to keep them in place. You should also see us for a checkup and cleaning visit every six months as well. We will monitor your smile to prevent further tooth loss, and to ensure your new smile is ready to stay in place.
If you have any questions about how we treat issues like tooth loss, or about the process of placing a prosthetic, then contact our team today to learn more.
DO YOU HAVE ANY QUESTIONS ABOUT MISSING TEETH?
Our team is ready to help find the best solution to the gaps in your smile. To learn more about how we secure a dental prosthetic, then call James Stewart, DDS, dental implant office in Livonia, MI, at (734) 425-4400. We also serve the residents of Farmington, Plymouth, Dearborn Heights, and all surrounding communities.