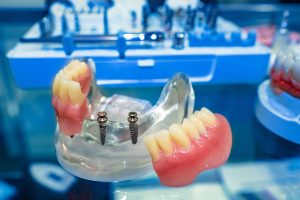 When your smile loses teeth, this could compromise the integrity and stability of your smile, leading to further tooth loss. This could also complicate the ability to place one or more dental implants. In today's blog, your Livonia, MI, dentist talks about the benefits of placing Mini Implants, and who qualifies for these.
When Your Smile Loses Integrity
Our body notices when one or more of our natural teeth are missing. In response, it no longer provides key nutrients to the jawbone around the lost root. The jawbone then loses mass and density, weakening with time and leading to further tooth loss and for some, an aged appearance. Which means your smile is unable to support traditional dental implants! We don't want these facts to prevent you from enjoying not only a full smile again, but a prosthetic that looks and functions like natural teeth, being fixed in place for decades with proper care and attention.
Qualifying for Mini Implants
Mini dental implants are smaller and more economical, providing a more affordable option to secure a full set of dentures. The implant posts will be inserted into the jaw and actually help stimulate the growth of bone tissue, which not only allows your new teeth to stay in place for decades, but prevents complications like further tooth loss or an aged appearance. We recommend these for people who have lost teeth and have weakened jawbones, but don't want to, or can't, undergo procedures like jawbone grafting or sinus lifts to rebuild the smile. We will examine your smile with advanced technology to see if you qualify, and we have special software to show you what your new smile could look like!
Placement and Maintenance
We will plan and guide them in place with special technology, so we insert them at the right angles to support dentures and also strengthen the jawbone tissue. We use local anesthetic and sedation to keep you calm and comfortable throughout the process. Once the placement area heals, we will attach the prosthetic to them. For some, we could do this in the same visit, so you leave with a complete smile. If you have any questions about our mini options, or if you have advanced tooth loss and want a smile that looks great and functions as it once did, then contact our team today to learn more.
DO YOU HAVE ANY QUESTIONS ABOUT REPLACING MISSING TEETH?
Even if you don't qualify for traditional fixed dentures, we could have an option that helps you. To learn more about how we address even major cases of tooth loss, then call James Stewart, DDS, dental implant office in Livonia, MI, at (734) 425-4400. We also serve the residents of Farmington, Plymouth, Dearborn Heights, and all surrounding communities.