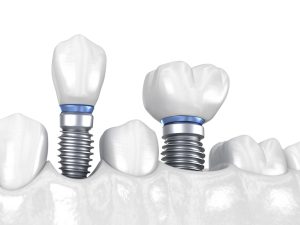 When our jawbones weaken following tooth loss, this could complicate the process of placing dental implants. But to prevent these complications and help people enjoy a full smile again, we may recommend a mini approach. In today's blog, your Livonia, MI, dentist talks about how we prepare and place Mini Implants.
How Tooth Loss Weakens Jawbone
When a tooth is lost, this means the body will suspend or divert the flow of calcium and phosphates to the bone tissue. Without these nutrients, the bone tissue itself begins to weaken and breaks down. The resulting loss of mass and density means the risk of further tooth loss increases, and that over time you could develop a prematurely aged appearance. This also complicates tooth replacement with dental implants, as there is now not enough bone tissue to support new teeth.
Do You Need Grafting?
For some patients, we could recommend rebuilding the weakened structure with jawbone grafting, also known as ridge augmentation. The procedure involves using bone tissue taken from the back of your jaw or your hip, or from a donor or synthetic source, to build up the weakened portions. We then place dental implants, which stimulate the growth of bone tissue and prevent further collapse. However, we also have an option that may help people with weakened bone structure avoid the need for grafting completely!
The Mini Implants
Mini Implants are much smaller than traditional posts, and the jaw will require fewer of them too. We insert them into the bone structure, and they prevent further weakening in the structure. Being smaller means a less intensive placement, and a faster healing period. We can then attach a new set of teeth, so you have a full smile that could last for decades, maybe even a lifetime! They will never slip when you team or speak, and you don't have to remove them for soaking or cleaning. Instead, they function and look like natural teeth.
If you have multiple missing teeth and would like the stability of an implant denture, without the need for oral surgery beforehand, then we could discuss using our Mini Implants. If you have any questions or concerns about this process, or if you would like to schedule a consultation, then contact our team today to learn more.
DO YOU HAVE ANY QUESTIONS ABOUT IMPLANT DENTISTRY?
We would like to help you enjoy a full smile again, even if your jawbone has weakened with time. A full smile is possible, and we want to help. To learn more about the process of rebuilding your smile, then call James Stewart, DDS, dental implant office in Livonia, MI, at (734) 425-4400. We also serve the residents of Farmington, Plymouth, Dearborn Heights, and all surrounding communities.