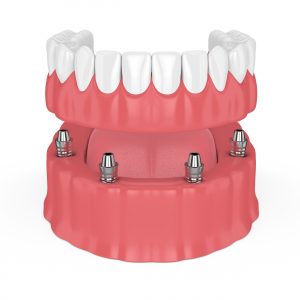 With Teeth-In-A-Day, we insert a series of dental implants and then attach a custom-made dental prosthetic, all in a single day! No need to wait for the placement area to heal, you leave the same visit with a complete smile. In today's blog, your Livonia, MI, dentist talks about how we place these teeth in only one day.
Assessing Your Candidacy
First, we need to make sure you're a good candidate for this procedure. We use this option to replace all of your teeth on one or both arches. Your tooth loss should be severe enough that most of your natural teeth are missing, and may need to extract a few remaining ones to prepare your smile. Or if you have a previous prosthetic that needs to be removed and replaced. We also use digital intraoral cameras to obtain clear images of your teeth, gums, roots, and oral structures, so we can assess the health of your smile. If you have underlying oral health issues that could cause implant failure, those may need to be addressed first.
Placing the Dental Implants
Once you're ready for the procedure, we will use advanced digital imaging and surgical guides to place the posts into your arch. You could have four or more inserted into each arch. Typically, following placement there is a waiting period as the area needs to heal and the posts bond with the jawbone like roots. However, with this procedure we will instead attach your custom prosthetic in the same sitting, so you leave with a complete smile!
Attaching Your Fixed Denture
The denture will contain a full row of lifelike teeth created from ceramic or zirconia, which can absorb daily bite forces and be color-matched to ensure a lifelike appearance. The denture will be designed based on the digital images we take of your smile, which we combine to create a 3D computer impression. We don't need to use goopy materials to make a physical impression, and the digital one is more precise and accurate. We then attach the prosthetic using abutments, so you have a fixed denture that never slips when you eat or drink, and could last for decades to come, maybe even a lifetime.
If you have any questions about how we place a set of teeth in one day, or if you would like to schedule a visit, then contact our team today to learn more.
DO YOU HAVE ANY QUESTIONS ABOUT TEETH-IN-A-DAY?
A full smile in a single day is possible with Teeth-In-A-Day. To learn more about securing a complete set of dentures, then call James Stewart, DDS, dental implant office in Livonia, MI, at (734) 425-4400. We also serve the residents of Farmington, Plymouth, Dearborn Heights, and all surrounding communities.