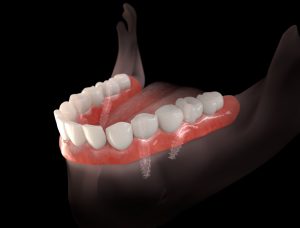 At one time, the process of securing implant dentures meant you needed a period of three to six months in between implant placement and the attachment of your denture. But what if this entire process, from adding your new tooth roots to attaching a prosthetic, could take just one visit? In today's blog, your Livonia, MI, dentist talks about teeth-in-a-day.
Assessing Your Tooth Loss
First, we want to understand the cause and extent of your tooth loss. We will carefully examine your smile with advanced technology, so we can understand the factors behind your missing teeth. This also allows us to choose the best replacement option. We may suggest first treating underlying issues, such as periodontal disease, to ensure your new teeth stay in place and keep your smile whole, healthy, and beautiful for decades to come!
Inserting Dental Implants
If you have lost most of your teeth, then we may extract the remaining few and take detailed images and immersions with digital technology. If you have enough jawbone to support dental implants, we will insert several into each arch. The implant posts, made from biocompatible titanium, will bond with the jawbone and secure your new smile. The process is planned and guided with advanced technology to ensure they stimulate the growth of bone tissue and can support your prosthetic. For some, these new teeth could stay in place for decades to come, possibly a lifetime! Typically, after placement several months would need to elapse so the placement area could heal. Only then could we move forward with attaching your custom-made prosthetic. However, with Teeth in a Day, this only takes one visit!
Attaching Your Prosthetic
The prosthetic portion contains a complete row of new teeth, each one crafted from durable and lifelike material to ensure an attractive smile and a durable chewing surface. We add abutments to the implant posts and use them to secure the prosthetic. Once in place, we attach the completed denture. You then leave our office with a complete smile! Even if you have suffered from total tooth loss and a significant amount of time has passed, we can still help you enjoy a complete smile once again. If you have any questions or concerns about the placement process, or about how we accomplish this in only one sitting, then contact our team today.
Would You Like a New Smile in One Day?
Our team can help address major tooth loss in as little as one visit with advanced implant dentistry. To learn more about how our team secures a denture in only one visit, then call James Stewart, DDS, dental implant office in Livonia, MI, at (734) 425-4400. We also serve the residents of Farmington, Plymouth, Dearborn Heights, and all surrounding communities.