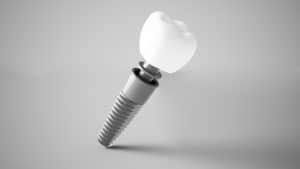 Dental implants provide patients in Livonia, MI, and surrounding communities with durable and long-lasting tooth replacement. They also enjoy new teeth that look natural and blend seamlessly with their smiles. But what makes up a dental implant, what makes them so different from traditional bridges or dentures?
The New Root
The implant portion, which acts as your new tooth root, is made from titanium, a biocompatible material that the body accepts as natural. The device is screw-like and inserted into the jawbone through oral surgery. We choose the placement area and angle carefully to ensure it can absorb maximum pressure and bite forces without compromising your new tooth. After we place it, the area could take between four and six months to heal. Osseointegration then takes place, which secures it like a new tooth root and allows your dental implant to last for decades, potentially even a lifetime.
An Abutment
After the area heals, we will work on addressing the visible portion of your new tooth. The first step is to add an abutment which connects the implant to the restoration that completes your new tooth. We place the abutment on the implant underneath the gumline. The top portion then sticks out above the gum line, ready to receive a crown or prosthetic, like a bridge or denture.
Your Custom Restoration
Now, we will place the crown. We custom-make each one to ensure it matches the color of surrounding teeth, and that it provides a durable chewing surface as well. We attach this to the abutment to complete your new tooth. If you have multiple dental implants, then we may attach a bridge or denture to the abutments to complete your new smile.
Prosthetics and Teeth in a Day
While the process sometimes takes several months to complete, we also have options that offer a complete smile in a single visit. We begin by removing any stray teeth and then inserting the new roots into the jawbone. In the same visit, we attach the abutments and a bridge or denture, so you leave with a complete smile. You return later when your final prosthetic is ready, and we can replace your temporary prosthetic. The process ensure you never live with a gap in your smile. If you have any questions, then contact our team to learn more!
DO YOU HAVE QUESTIONS ABOUT IMPLANT DENTISTRY?
If you have lost one or more of your natural teeth, or if you have an older prosthetic you would like replaced, then talk to our team. To learn more about enjoying a full and functional smile again, call James Stewart, DDS, dental implant office in Livonia, MI, at (734) 425-4400. We also serve the residents of Farmington, Plymouth, Dearborn Heights, and all surrounding communities.