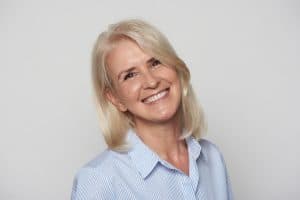 If you have missing teeth, then your overall quality of life can suffer, from your ability to eat and speak, to the stability of your facial structure. To help replace missing teeth with implant technology, without making you wait for a lengthy healing process, your Livonia, MI, dentist can offer Teeth in a Day. Do you qualify for Teeth in a Day, and what does placement involve?
What are Teeth in a Day?
We use the procedure to help people with advanced tooth loss, the kind that benefits from the placement of a denture. Typically, the process involves a visit to surgically insert between six and eight dental implants per arch. Then we need to wait three to four months for the placement area to heal, which allows them to bond with the jawbone and act as new tooth roots. Only then do we attach the custom prosthetic and complete the smile. While effective, this often means people must go through their day without a full smile. Teeth in a Day corrects the issue, as we can now insert the dental implants and attach a denture in the same visit!
Placement and Care
To begin, we will extract any remaining teeth and then insert the dental implants into your jawbone. We then attach a denture. While temporary, this one will look natural and help you enjoy a full smile while we complete work on your final prosthetic, which is designed specifically for your smile and facial structure. You return later so we can remove the temporary and attach your new smile. At no point are you left with a toothless smile. The process also uses fewer dental implants. Instead of six to eight per arch, we use four specially placed ones, which means this also works for people that have lost jawbone tissue, so you may need to undergo jawbone grafting or sinus augmentation first.
Long Term Benefits
First, being fixed in place means they never slip when you eat or speak, and that you will won't have to take them out for soaking and cleaning. Since dental implants act as new tooth roots and stimulates the growth of jawbone tissue, your new smile could last for decades, even a lifetime in some cases. Removable dentures often need replacement every five to ten years, as the jawbone ridge will change shape due to loss of mass and density. You will also be able to eat your favorite foods again, smile with confidence, speak without difficulty, and or course, never go without a complete smile.
DO YOU HAVE QUESTIONS ABOUT REPLACING MISSING TEETH?
Our team would like to help you enjoy your best possible smile with durable and lifelike teeth in a day. To learn more about addressing tooth loss, call James Stewart, DDS, dental implant office in Livonia, MI, at (734) 425-4400. We also serve the residents of Farmington, Plymouth, Dearborn Heights, and all surrounding communities.