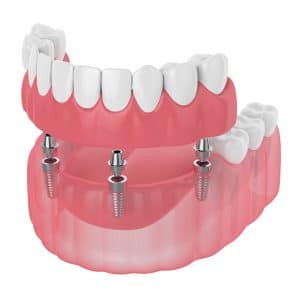 For people missing most or all of their teeth, problems could arise unless this problem is addressed. You could be at a higher risk of developing an aged appearance, or seeing your overall health suffer. In order to offer something more secure than traditional, removable dentures, your Livonia, MI, dentist may suggest an implant secured alternative! In fact, we may even be able to offer teeth in a day!
The Long-Term Benefits of Implant Solutions
Each dental implant is made from titanium, a biocompatible material. Biocompatible means the body accepts this as natural tissue. When we insert one or more into the jawbone, the body resumes the flow of nutrients that ceases once we lose a tooth. This stimulates the growth of bone tissue and also begins bonding the implant to the jawbone like an actual tooth root. As a result, dental implants have the built to last for decades and possibly even a lifetime, while other prosthetics, like bridges and dentures, usually need replacement around every 10 years as the jaw ridge loses mass and density. Once we attach a prosthetic, like a partial or full denture, to your implant, you have a prosthetic that isn't removable. Being fixed in place means no slippage when you eat or speak, no need for cleaning or soaking, and greater stability. You can eat your favorite foods without worry, and enjoy a smile that fits and looks like natural teeth.
Creating Your Fixed Dentures
After we take detailed digital impressions and images of your smile, we can create a model of your smile. We plan the placement and then guide the implants into position with advanced technology. We also use the information and computer models to design your prosthetic, creating one that reflects your facial structure and offers a lifelike appearance as well. Once we complete them, we attach them to the dental implants after a brief healing period. However, sometimes we can do this in the same day!
Teeth In A Day
Teeth in a Day, as the name implies, means we can place and restore a dental implant in a single day. After we extract remaining teeth and insert your new ones, we affix your prosthetic in the same visit. You leave with a full and functional smile! If you have any questions about treating tooth loss and about the use of lifelike dental implants, then contact our team today. We're ready to help our patients enjoy a full, beautiful, and functional smile once more!
DO YOU NEED A NEW SMILE?
Our team can help replace your lost teeth, often in a single day, with lifelike and durable implant-secured prosthetics. To learn more, call the James Stewart, DDS, dental implant office in Livonia, MI, at (734) 425-4400. We also serve the residents of Farmington, Plymouth, Dearborn Heights, and all surrounding communities.