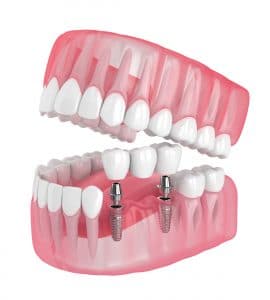 A dental bridge is a great way to address minor tooth loss, such as one to three lost teeth in a row. While effective, they do need to be replaced every 10 to 15 years as the jaw ridge and smile changes shape. However, your Livonia, MI, dentist can support them with dental implants, which means they could last considerably longer and offer a host of additional benefits!
Dental Bridges
As the name implies, this prosthetic bridges the gap between your missing teeth. The natural teeth on either side of the gap act as abutment teeth, meaning structure is removed from them. The prosthetic will contain the pontics, or new teeth, with crowns attached to each end. We place the crowns on the abutment teeth, securing the pontics in place. The prosthetic itself is created based on detailed impressions and images taken of your smile, all to ensure it not only looks natural, but can absorb bite forces and restore function to your smile.
Support with Dental Implants
With dental implants, we don't need to remove structure from otherwise healthy teeth. Instead of abutment teeth, we will insert dental implants into the jaw, where they bond with the bone tissue and act as new tooth roots. The crowns on the bridge will be attached to these implants. When we lose teeth, the body stops sending doses of calcium and phosphorus to the jawbone. Without these nutrients, the bone tissue is starved and begins to break down. This changes the jaw shape and necessitates the replacement of prosthetics like bridges and dentures. However, dental implants are recognized as natural roots, stimulating the growth of tissue and allowing your new teeth to stay in place for decades, possibly even a lifetime!
The Dangers of Minor Tooth Loss
As we mentioned above, losing teeth means negative changes to the jawbone and facial structure. In addition, you could develop misalignment as nearby teeth drift from position, causing issues with your oral health. The lack of teeth could strain the jaw joints as well, increasing the risk of painful disorders like TMD and bruxism. You could also lose your ability to eat your favorite foods, or even speak clearly. By addressing tooth loss early, you prevent the issue from growing worse and restore function, health, and beauty to your smile. If you have any questions about tackling your missing teeth with implant dentistry, then contact our team today.
Do You Need an Implant-Supported Prosthetic?
With advanced technology and biocompatible implants, we can help you enjoy new teeth that will last for years to come. To learn more, call the James Stewart, DDS, dental implant office in Livonia, MI, at (734) 425-4400. We also serve the residents of Farmington, Plymouth, Dearborn Heights, and all surrounding communities.