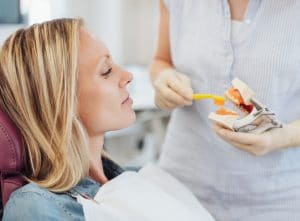 One of the best things about receiving dental implants to replace your lost teeth is the highly lifelike way in which they rebuild your smile. Not only is your restoration virtually indistinguishable from the rest of your healthy, natural teeth, but the implant posts that anchor it to your jaw give it a highly lifelike level of comfort and stability. Once you receive your dental implants, though, ensuring their long-term success (and the continued good health of your smile) requires properly caring for your dental implants, teeth, and oral tissues on a consistent basis.
How implants replicate your natural teeth
What makes dental implants different from more traditional dental bridges and dentures is the fact that they're designed to replace your lost teeth roots. This means they must be inserted into your jawbone, from which they can successfully anchor your dental restoration in place. This is highly beneficial for many different reasons, including preserving the health and integrity of your jawbone better. It also means your dental restoration won't come with additional things like supportive crowns, clasps, or adhesives, so caring for them on a consistent basis is often simpler and more convenient.
Good hygiene when you have implants
Keeping them clean every day – Like caring for your healthy, natural teeth, caring for your dental implants means keeping your teeth, gums, and implant restoration clean on a daily basis. Oral bacteria can still accumulate and cause trouble, like gum disease, that could compromise your oral health and the success of your dental implants.
Keeping them really clean with your dentist's help – Keeping up with good hygiene practices is vital to keeping your smile healthy after receiving dental implants. So is maintaining a schedule of regular visits to your dentist's office. Your dentist will ensure they're clean of all traces of plaque and tartar, as well as check to ensure that your teeth and dental implants don't require any additional attention.
Keeping them in good shape with mindfulness – While dental implant posts and high-quality restorations do a great job of mimicking your natural teeth, they aren't as strong as your healthy, highly resilient tooth structure. To avoid inadvertently damaging or wearing down your implants, be mindful of things like chewing on ice and constantly grinding your teeth. If necessary, speak to your dentist about addressing any bite problems that may be causing you to grind your teeth.
Learn more about caring for your implants
Replacing your lost teeth with dental implants can restore your healthy smile, but it will still take diligent care to preserve it. To learn more, call the James Stewart, DDS, dental implant office in Livonia, MI, at (734) 425-4400. We also serve the residents of Farmington, Plymouth, Dearborn Heights, and all surrounding communities.