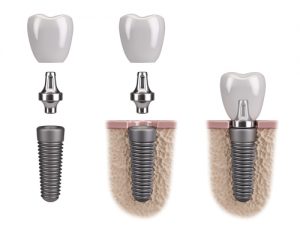 Before we recommend dental implant, we have to look at the health and state of your smile. For example, if you have an underlying health issues, such as gum disease, you may need treatment before we proceed. In addition, losing significant amounts of jawbone tissue can mean there isn't enough tissue to support a new tooth. However, to address this we may be able to place mini-implants. Do you have any questions about mini-implants?
Frequently Asked Questions About Mini-Implants
Question: How does tooth loss lead to the deterioration of jawbone tissue?
Answer: When you lose a tooth, the body notices. Without a tooth root, the body stops supplying the area around the lost tooth with doses of calcium and phosphorus. Without these nutrients, the jawbone deteriorates, which can lead to further tooth loss and an older appearance.
Question: Can I receive mini-implants?
Answer: In some cases, if people lose significant amounts of jawbone tissue due to tooth loss, there won't be enough tissue to support the dental implants. However, mini-implants are designed to provide new teeth for patients that would otherwise not qualify for dental implants.
Question: How long will my new teeth last?
Answer: Traditional prosthetics, such a bridges or dentures, rely on crowns or natural suction to hold them in place. Since dental implants act as new tooth roots, they can stimulate the growth of jawbone tissue and remain in place for decades, if not a lifetime.
Question: How do I maintain them?
Answer: We will provide detailed information on caring for your new teeth. In many cases, you can maintain them with routine homecare, which means brushing and flossing daily, as well as routine dental cleanings every six months. If you have any questions about addressing tooth loss then contact our office today.
Do You Have Missing Teeth?
James Stewart, DDS, and our team can help you enjoy a full smile one again using dental implants. We serve patients from Livonia, MI, as well as Farmington Hills, Farmington, Plymouth, Northville, Novi, Dearborn Heights, Dearborn, Garden City, Westland, Redford, and the surrounding communities. To schedule a consultation, call our office today at (734) 425-4400.