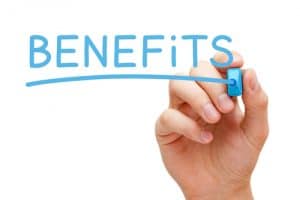 Dental implants are very different from other tooth replacement options, such as dental bridges and partial/full dentures. They offer a number of advantages to these more commonly known dental prosthetics. What benefits do dental implants offer? Can anyone receive them to address tooth loss?
Common Dental Implant Benefits
They can Last a Lifetime: The implant portion is surgically inserted and made from a biocompatible titanium, which means it will act as a natural tooth root. Since the new tooth bonds with the jawbone your new tooth can last for a long time, decades or possibly a lifetime.
Very Lifelike Appearance: Each individual replacement tooth is topped with a restoration, typically a dental crown. Custom-made using dental ceramic, the restoration looks natural and blends with the patient's smile. You can enjoy a new tooth that looks completely natural and matches the rest of your smile.
You can Avoid Facial Collapse: When we lose teeth, the body takes notice, suspending the flow of nutrients to the jawbone. Without these key nutrients, the jawbone actually dissolves, which can lead to further tooth loss and an older appearance as a result of facial collapse. Fortunately, dental implants stimulate jawbone growth since the body recognizes them as natural tooth roots.
We can Address Mild and Advanced Tooth Loss: If you lose one tooth, we can place a single tooth implant. But what if you lose the majority, or all, of your teeth? We can then place multiple posts to support a prosthetic, providing fixed dentures that can last longer than traditional removable ones.
We can Help Patients That Have Already Lost Jawbone Tissue: If you've lost jawbone tissue as a result of advanced tooth loss we can place All-on-4 implant dentures, even if you've lost jawbone tissue.
Do You Have a Missing Tooth?
James Stewart, DDS, and our team can replace your missing tooth/teeth with a lifelike dental implant or implant prosthetic. We serve patients from Livonia, MI, as well as Farmington Hills, Farmington, Plymouth, Northville, Novi, Dearborn Heights, Dearborn, Garden City, Westland, Redford, and the surrounding communities. To schedule a consultation, call our office today at (734) 425-4400.