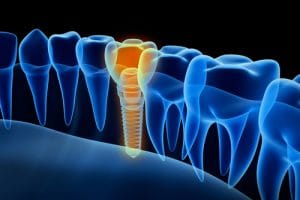 While there are a number of options available for replacing missing teeth, many of them will require replacement or adjustment after only a few years. For example, removable dentures often need replacement every 5 to 10 years. A dental bridge may need to be replaced after 10 to 15 years. But dental implants, they can last for decades and possibly a lifetime. What makes dental implants last so long?
Frequently Asked Questions About Dental Implants
Question: How does the implant act as a new root?
Answer: The implant portion is made from titanium. This metal is biocompatible meaning, meaning titanium has the ability to bond with the jawbone tissue like an actual tooth root. After placement, we let the area heal for between three and six months. During this time osseointegration occurs, bonding the jawbone and implant together.
Question: What factors make me a good candidate?
Answer: We will first look at your jawbone tissue. We want to make sure you have enough to support the dental implant. If not, we can discuss mini implants or possibly recommend a bone grafting procedure. We will also look at your gums. The presence of periodontitis, or the advanced stage of gum disease, can mean the new tooth fails, since the advanced stage breaks down the connective tissue between the teeth and gums.
Question: What steps are needed to keep my new teeth strong?
Answer: Basically, you need to provide the same level of care you would for natural teeth, which means brushing twice a day, flossing once a day, and having your teeth cleaned every six months by your dentist or hygienist.
Question: Will implant dentures last for decades as well?
Answer: Yes! With proper care and attention, you implant dentures can last for a long time as well.
Do You Have Questions About Replacing Missing Teeth?
James Stewart, DDS, and our team are ready to help address your tooth loss with a lifelike and long lasting prosthetic. We serve patients from Livonia, MI, as well as Farmington Hills, Farmington, Plymouth, Northville, Novi, Dearborn Heights, Dearborn, Garden City, Westland, Redford, and the surrounding communities. To schedule a consultation, call our office today at (734) 425-4400.