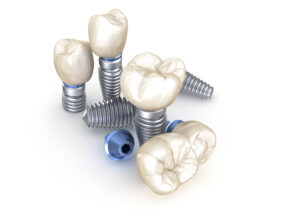 When you have a smile weakened by advanced tooth loss and lack of treatment, you could still enjoy a complete smile again. In fact, this could be possible without the need for jawbone grafting or sinus lifts! In today's blog, your Livonia, MI, dentist talks about the benefits of mini dental implants!
The Loss of Teeth and the Impact on Your Jaw
When we lose our natural teeth, we're left with much more than a gap in the smile. Complications could include misalignment, and even trouble eating properly or speaking clearly. But the body will also begin to divert or suspend the flow of calcium and phosphates to the area around the missing roots. Without these nutrients, the bone tissue loses mass and density, breaking down around the missing roots and eventually causing further tooth loss and a weakened jaw. Which means you may not be able to support dental implants without first undergoing surgery to rebuild your jaw with grafting or sinus lifts. However, there are specialized replacement options that can help without the need for oral surgery first.
Mini Options
Mini Implants are smaller than traditional ones, and are designed to support a prosthetic and also stimulate the growth of jawbone tissue, as the body sees them as natural roots. These are also more affordable, and require less structure to stay in place. No need for grafting or sinus lifts beforehand. Made from biocompatible titanium, these act as new roots and allow your prosthetic to stay in place for decades to come, possibly a lifetime in some cases. Our team will examine your smile and assess the state of your jawbone and the cause of your tooth loss before prescribing them.
Get Started Today!
If you have a missing tooth, or several, don't live with the complications of tooth loss. Instead, talk to our team about a possible solution. Even if years have elapsed since you lost your teeth, we still have options to help rebuild what was lost and allow you to smile with confidence and enjoy your favorite emails again. A visit now is also a chance to use your 2022 dental insurance benefits before they expire at the end of the year. If you have any questions about implant dentistry, then please contact our team today to learn more. A full smile in 2023 and beyond is always possible!
DO YOU HAVE QUESTIONS ABOUT TOOTH REPLACEMENT?
Our team wants to help you smile without hesitation with implant dentistry. To learn more about addressing major tooth loss, then call James Stewart, DDS, dental implant office in Livonia, MI, at (734) 425-4400. We also serve the residents of Farmington, Plymouth, Dearborn Heights, and all surrounding communities.