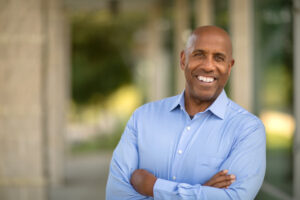 When you have factors that complicate receiving dental implants, or could require oral surgery to build up your smile first, we could help. Mini Implants not only look natural, but restore smiles and help those with lost jawbone density. In today's blog, your Livonia, MI, dentist talks about Mini Implants.
Weakened Smiles and Implant Complications
When teeth are missing, the body will take note and in response, suspend or divert the flow of calcium and phosphates away from the area with lost teeth. This causes the jawbone structure there to lose mass and density, breaking down and causing further tooth loss and in severe cases, a prematurely aged appearance. This could mean there isn't enough tissue to support dental implants without first undergoing ridge augmentation or sinus lifts to essentially rebuild the area. But even for some weakened smiles, we could offer a solution without the need for prior oral surgery.
Moving Forward with Mini Implants
Some smiles can't undergo surgery to rebuild them, or the patient may just want to avoid this. With Mini Implants, we use smaller and more economical options that require less jawbone tissues to support them. We then plan and guide their placement with digital technology, setting them at the angle and position to stimulate the growth of jawbone tissue, ensuring your new roots can stay in place for decades. We may first need to address underlying oral health issues, such as gum disease, to ensure longevity and stability.
Attaching a Prosthetic
Once your new roots are in place, in the same visit we could attach abutments and then connect the denture. The dentures will be custom-made to ensure a lifelike appearance and stability, so you can smile with confidence and eat your favorite foods again. No need to remove them for cleaning or soaking either, as they're fixed in place. For some, this means a full smile that could potentially last a lifetime. While for some we may need time in between placement and the attachment of the prosthetic. For others this could be accomplished in the same day, so you leave with a full smile!
If you have any questions about how we address missing teeth or support a full set of dental implant dentures, then contact our team today to learn more. We would love to help you enjoy a full and stunning new smile!
Do You Have Lost Teeth?
A full smile is possible, and we can help with specialized prosthetic options that replace missing teeth and last for years to come. To learn more about our options for rebuilding smiles, then call James Stewart, DDS, dental implant office in Livonia, MI, at (734) 425-4400. We also serve the residents of Farmington, Plymouth, Dearborn Heights, and all surrounding communities.