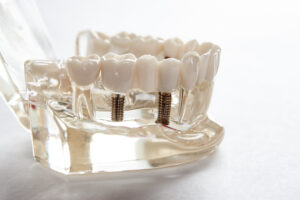 When you have tooth loss too complicated for a bridge, but you have enough natural teeth that a full set isn't necessary, then you may need a partial. Instead of a removable prosthetic, we could offer partials secured with dental implants. As your Livonia, MI, dentist will explain, this can offer a lifetime of tooth replacement!
Complicated Cases of Lost Teeth
Losing teeth across the arch of your smile could limit what kinds of foods you can eat, or even make clear speech difficult. You could also simply feel embarrassed about your advanced case of tooth loss and suffer the onset of dental misalignment. But the most dangerous complication is the gradual loss of mass and density in your jawbone. This is because the body suspends or diverts the flow of nutrients to the jawbone around the lost roots. The consequence is the breakdown of the tissues, leading to further tooth loss and even a prematurely aged appearance.
Dental Implants
While these particles could be supported with clasps, we offer a more secure option, one that actually prevents the loss of mass and density in your smile. Dental implants are small, screw-like titanium posts that we surgically place into the jawbone. There, they bond with the bone tissue through a process known as osseointegration, which secures them like natural roots. The body then resumes the flow of calcium and phosphorus to the jawbone, preserving your smile's youthful features and also preventing further tooth loss. Your prosthetic will be fixed in place, never slipping when you eat or talk, and lasting for decades instead of just five years.
Partial Dentures
The partial denture itself will be custom-made based on detailed images we gather of your smile with digital technology. The prosthetic will contain an acrylic base that mimics the appearance of gum tissue. The teeth will be crafted from options like ceramic, so they can absorb daily bite forces like natural teeth, and also be shaded to blend with your smile seamlessly. They can address multiple gaps spread out across your smile, and allow you to eat your favorite foods again and smile with confidence. We can also use implant dentistry to address full tooth loss, with a complete set of implant-secured dentures.
If you have any questions about treating lost teeth with dental implant partial dentures, then contact our team today.
DO YOU HAVE QUESTIONS ABOUT PARTIAL DENTURES?
We would like to help you enjoy a complete smile, and one that can potentially last a lifetime. To learn more about addressing complicated cases of missing teeth, then call James Stewart, DDS, dental implant office in Livonia, MI, at (734) 425-4400. We also serve the residents of Farmington, Plymouth, Dearborn Heights, and all surrounding communities.