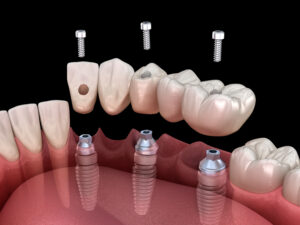 Our last blog discussed how we secure a single missing tooth with an implant and crown. But what if you have more than one missing tooth? For minor cases with multiple missing teeth, your Livonia, MI, dentist could use dental implants to secure a dental bridge. A full smile is possible again!
The Need for Tooth Replacement
A dental bridge is the right choice to address between one and three missing teeth in a row. The prosthetic not only looks natural, but helps preserve bite balance and prevent a number of complications associated with tooth loss. The prosthetic contains new teeth with crowns attached to either end, often crafted from materials like ceramic, which are lifelike in appearance but also very strong and durable. Each one is custom made for your smile. Remember, tooth loss is associated with misalignment, jaw joint issues like TMD and bruxism (teeth grinding), and even the gradual break down of the jawbone, a process that could mean further tooth loss and even a prematurely aged appearance.
Inserting Dental Implants
Traditional options are secured with crowns placed on natural teeth. But by inserting dental implants, we preserve the structure on your natural teeth, and three dental implants help stimulate the growth of the jawbone. Since the body accepts them as natural roots, this prevents the gradual break down of the jawbone structure, and helps ensure your new prosthetic is ready to last for decades or even a lifetime. We will insert the implant posts at specific angles and positions, guided into place with digital technology. This ensures it stimulates the bone tissue, and is ready to support your dental bridge.
Attaching Them
The completed bridge will be attached to the posts once the placement area heals. You will need to brush and floss them as you would natural teeth, and clean the spaces between the top of the gums and the bottom of the prosthetic. With proper care, you can not only ensure your new prosthetic lasts for years to come, but you can also safeguard your remaining natural teeth to protect them and your smile's stability.
If you have any questions about how we address minor tooth loss, or about the creation and placement of dental implant bridges and other prosthetic options, then contact our team today to learn more. We want you to continue to smile with confidence, enjoying a full and functional smile that looks great too!
DO YOU HAVE QUESTIONS ABOUT DENTAL BRIDGES?
Our team is ready to address your missing teeth with a custom prosthetic and implant dentistry. To learn more about treating your missing teeth, then call James Stewart, DDS, dental implant office in Livonia, MI, at (734) 425-4400. We also serve the residents of Farmington, Plymouth, Dearborn Heights, and all surrounding communities.