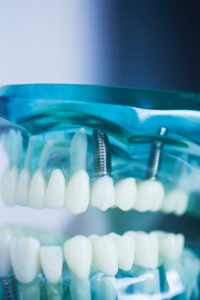 Dental implants can offer decades of tooth replacement, and for some patients last a lifetime. They have a 97% success rate, and also look natural too. But what makes them so stable and long-lasting? In today's blog, your Livonia, MI, dentist talks about what makes dental implants such a durable and dependable tooth loss solution.
The Parts of Your New Tooth
First, we're going to look at what makes up a dental implant. They contain three main portions. The first is the post, a screw-like device that is crafted from titanium. Since titanium is a biocompatible material, this enables the post to bond with the jaw once it has been surgically inserted. The next is the abutment, which we connect to the post and extends above the gum line. Finally, the restoration, the part people see when you smile. For an individual one, this is a crown we connect to the abutment. For people with multiple missing teeth, this could be a bridge or denture connected to multiple posts.
Osseointegration
They last so long due to osseointegration, or the bonding between the jawbone and the post. This secures like a natural root and stimulates the growth of jawbone tissue. You see, when you lose a tooth, the body will suspend the flow of certain nutrients to the jawbone around the missing root. Without these, the bone loses mass and density. This could lead to weakened structure, further tooth loss, and over time, a prematurely aged appearance. Fortunately, opting to replace your missing teeth with dental implants can offer a solution that lets you smile with confidence and eat your favorite foods again!
The Visible Part of Your New Smile
We also take time to ensure the crown or prosthetic we attach to the post or posts have been custom-made for your smile. This ensures a balanced bite and a comfortable fit, and also a lifelike appearance, as we use materials that can be shaded to blend with the rest of the smile seamlessly. We can also use options like All-On-Four to support a full set of dentures on only four posts per arch, which helps those with weakened jaws receive a new smile without first undergoing grafting or sinus lift procedures.
If you have any questions about treating tooth loss, or about how we ensure your new teeth last, then contact our team today to learn more.
Ready to Give Implant Dentistry a Try?
Our team is ready and able to address minor or severe cases of tooth loss with a lifelike and durable replacement option. To learn more about the benefits of implant dentistry, then call James Stewart, DDS, dental implant office in Livonia, MI, at (734) 425-4400. We also serve the residents of Farmington, Plymouth, Dearborn Heights, and all surrounding communities.