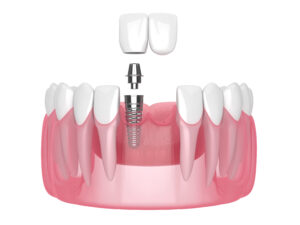 If you have lost a tooth, even just one, dental implants can still help! Along with addressing more severe cases of tooth loss, we can also help with minor cases, preventing major complications with your smile's appearance and function. In today's blog, your Livonia, MI, dentist talks about dental implants and crowns.
Dental Implants and Crowns
How does an individual dental implant work? Each one consists of three major parts. The implant portion is a screw-like post made from titanium, a biocompatible material. This is what we insert into the jaw through oral surgery, bonding with the jawbone through osseointegration. The next part is the abutment, which we connect the posts and which extends above the gum line. This is what we attach the next portion to the restoration. The restoration, a custom-made and lifelike dental crown, the part people see when you smile, and what provides a durable and dependable chewing surface.
The Benefits of Single Tooth Replacement
The dental implant post will bond with the jawbone and act as a new root, which prevents the loss of mass and density in the jaw, a complication that follows tooth loss. As a result, your new tooth can last for decades, or possibly a lifetime. Placement also prevents other complications, such as misalignment, TMJ disorder, bruxism, and other complications of an uneven bite. You can smile with pride again, and you will be able to eat your favorite foods again!
Addressing Dental Prosthetics
What about more severe cases of tooth loss? In these situations, our team can still employ implant dentistry to provide durable and long-lasting solutions to tooth loss. For example, a bridge can handle cases of two to four missing teeth in a row. If you have several gaps across your smile, a partial denture can be employed to fill them. Finally, a full set of dentures can also help transform your smile, and can be supported with implant dentistry. In fact, we even have All-On-Four and Mini Implants for people with weakened jawbones who don't want to undergo grafting or sinus lifts before receiving a new denture.
If you have any questions about how we treat missing teeth and offer a full smile again, or if you would like to schedule a consultation and see which option is right for you, then contact our team today to learn more.
Do You Have Questions About Implant Dentistry?
Our team wants to help you fill the gaps in your smile caused by lost teeth. To learn more about enjoying a complete smile once again with a lifelike and durable dental prosthetic, then call James Stewart, DDS, dental implant office in Livonia, MI, at (734) 425-4400. We also serve the residents of Farmington, Plymouth, Dearborn Heights, and all surrounding communities.