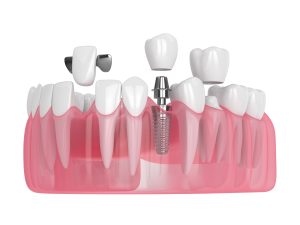 When you lose one tooth, this could still mean serious trouble for the beauty and function of your smile, and its long-term health. Fortunately, your Livonia, MI, dentist can offer a solution even if you only have one missing tooth. In today's blog, we're looking at our dental implants and crowns, and how they offer long-lasting and attractive replacement.
The Risks of Even One Missing Tooth
How does losing just one tooth cause problems for your smile? Well, the gap could cause surrounding teeth to drift, changing positions and leading to dental misalignment. The misalignment not only worsens the impact on your smile's appearance, but is a recipe for increased tooth decay and gum disease. In addition, this gap could alter the balance of your bite and strain the jaw joints, which means the risk of TMJ disorder and bruxism (teeth grinding) becomes more likely. As the body diverts the flow of calcium and phosphorus to the jawbone, this means the structure around the missing tooth breaks down. The result is further tooth loss!
Placing the Dental Implant
A dental implant helps by not only filling the gap to prevent misalignment and preserve bite balance, but by also acting as a new root, one that requires the flow of nutrients to keep the bone tissue from breaking down. We take detailed images and impressions of your smile with digital technology, carefully planning the placement process. We then guide the new post into position at a perfect angle to support a crown or prosthetic. Once this bonds with the jawbone, we will move forward with addressing the visible portion of your new tooth!
Crafting Your Custom Dental Crown
To create the portion people see when you smile, our team will custom-make a dental crown. We use materials like ceramic, which absorbs bite forces and contains the same translucent properties as natural enamel. The material is also stain-resistant, and can be shaded to blend with your smile. We want you to be able to smile with confidence, and also eat your favorite foods and enjoy a new tooth that is ready to last for decades to come, possibly a lifetime. If you have any questions about how we address missing teeth with a dental implant, or if you would like to find out if they're right for you, then contact our team today to learn more.
DO YOU HAVE ANY QUESTIONS ABOUT ADDRESSING TOOTH LOSS?
We would like to help you enjoy a complete smile again with implant dentistry. To learn more about our options for minor cases of tooth loss, then call James Stewart, DDS, dental implant office in Livonia, MI, at (734) 425-4400. We also serve the residents of Farmington, Plymouth, Dearborn Heights, and all surrounding communities.