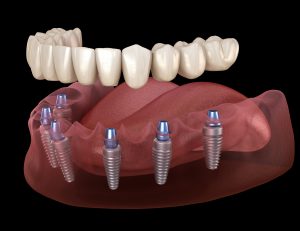 People with severe tooth loss could have trouble with eating and speaking, and their overall quality of life could suffer. Dentures restore smiles, but they only last about five years before requiring replacement. But what if your Livonia, MI, dentist could secure them with dental implants, providing a fixed option that could last for decades to come?
When to Consider Dentures
A set of dentures addresses cases of tooth loss to severe to be treated with a bridge alone. A partial is meant for multiple gaps spread out across your smile, but not sere enough to require a complete set of dentures. A full replaces every tooth on one or both arches. When you suffer advanced tooth loss, this could grow more severe with time. The jawbone loses mass and density following tooth loss, which could mean further tooth loss and even an aged appearance. Implant dentist not only restore your ability to smile and eat your favorite foods, but this could also preserve your facial structure, and last for many years to come, much longer than traditional removable options.
Placing New Teeth
When we decide which type of prosthetic you need, we will use digital technology to plan and guide the placement of multiple dental implants into your smile. The posts are made from titanium, which is biocompatible and accepted by the body as natural root structure. The new root stimulates the growth of jawbone structure to keep the jawbone whole and healthy. This helps them last for decades, maybe a lifetime. You preserve your facial structure, protect the rest of your smile, and enjoy new roots that last.
All-On-Four and Mini
If you've already lost jawbone tissue due to missing teeth, then you nay not have enough tissue to support new teeth without first undergoing jawbone grafting or sinus lifts to rebuild those parts of your smile. However, we also have All-On-Four, which only need four specially placed posts per arch, requiring less bone structure to support. We also have Mini Implants, which are smaller and more economical and require less structure to support. If you have any questions about our options for addressing advanced tooth loss, or if you want to schedule a consultation, then contact our team today. We want to help you maintain a whole and healthy smile, one that last for years to come and makes you feel confident when you smile.
DO YOU HAVE ANY QUESTIONS ABOUT FIXED DENTURES?
Our implants could secure a new smile that lasts for many decades to come. To learn more about how we restore a smile's beauty and function, then call James Stewart, DDS, dental implant office in Livonia, MI, at (734) 425-4400. We also serve the residents of Farmington, Plymouth, Dearborn Heights, and all surrounding communities.