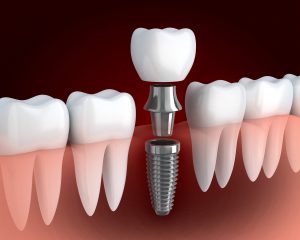 Our team provides dental implants to help you enjoy a secure and long-lasting replacement for one or more missing teeth. From individual ones to implant-secured dentures, these could restore your ability to eat and speak without complication. But what makes up each of these dental implants? In today's blog, your Livonia, MI, dentist takes a look!
The Post
Did you know that dental implants offer a 98% success rate? This is because they essentially act as new roots. The post portion is screw-like in appearance and crafted from titanium, a biocompatible material. We insert one or more of them into the bone tissue. The body accepts them as natural roots, so osseointegration occurs, bonding them with the bone tissue. Your new tooth could now last for decades to come, possibly even a lifetime! For an individual tooth we place one, and several could be employed to support a bridge or a fixed denture.
The Abutment
The abutment is a small connecting piece that attaches the restoration or a portion of a prosthetic to each of the individual posts. We add them before we attach the restorations or prosthetic, completing your smile.
The Restoration
For an individual one, we use a crown to act as the new visible portion of your tooth. Created based on detailed images and measurements taken of you smile, the crown will ensure a balanced bite and comfortable fit, and provide a durable chewing surface. To ensure optimal smile esthetics, we also craft them with materials like ceramic, which can be color-matched to blend with your smile, and also contain stain-resistant properties.
Prosthetics
If you have more than one missing tooth, we may opt for multiple implant posts to support a bridge or prosthetic. These will be custom-made to ensure a proper fit and complication-free chewing and peaking, and to also ensure a lifelike appearance that reflects your facial structure. Being fixed in place means they last much longer than traditional removable dentures, and that you never need to worry about slippage during meals or speech.
If you have lost a tooth, don't let the state of your smile degrade. Instead, talk to our team. We will perform a detailed examination to see which implant-secure option will work best for your smile. We want to help you smile with confidence once again, and enjoy optimal oral health and function.
DO YOU HAVE ANY QUESTIONS ABOUT IMPLANT DENTISTRY?
Our team is ready to offer an advanced and secure solution for missing teeth. To learn more about the dangers of tooth loss and discuss possible solutions with implant technology, then call James Stewart, DDS, dental implant office in Livonia, MI, at (734) 425-4400. We also serve the residents of Farmington, Plymouth, Dearborn Heights, and all surrounding communities.