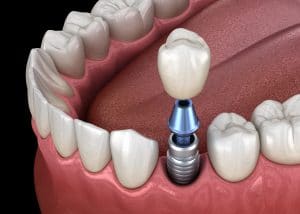 When you lose one tooth, this could lead to a gap in your smile and over time, serious complications. To avoid these complications and enjoy a long-lasting tooth replacement, we may suggest a dental implant and crown. In today's blog, your Livonia, MI, dentist looks at the benefits of replacing missing teeth with implant dentistry.
Implants and Crowns
Even a single missing tooth could mean trouble. For example, surrounding teeth could actually move, drifting from position to cause misalignment and in turn, increase the risk of tooth decay and gum disease. The pressure from your missing tooth could also lead to a higher likelihood of TMJ disorder and bruxism (teeth grinding). Since the body will suspend the flow of calcium and phosphorus to the jawbone around a lost tooth, this means the loss of jawbone mass and density could lead to additional missing teeth, further harming the health and beauty of your smile! However, a single tooth dental implant, with a crown attached, could provide a lifelike and durable solution for minor tooth loss.
Placing Your New Roots
First, we choose the best area for placement and guide the process using advanced technology. The dental implant acts as a new root, and is made from biocompatible titanium. After we insert it surgically, the new root bonds with the jawbone tissue through a process known as osseointegration. As a result, they can last for many years to come, decades or possibly even a lifetime! The next step is to add a restoration to address the visible portion of your new tooth.
Creating a Restoration
While for some patients there will be a waiting period before placement and restoration for osseointegration to take place, often we complete the entire process same-day. First, we create a custom-made dental crown, one that looks natural and is able to absorb daily bite forces. We add an abutment to the dental implant and then attach the completed crown. This ensures your tooth looks natural, and is able to withstand the daily forces and pressures that other natural teeth do. If you have lost one or more of your teeth, and want a long-lasting and lifelike solution, then contact our team about implant dentistry! We're ready to help you enjoy a full, functional, and beautiful smile once again!
DO YOU HAVE QUESTIONS ABOUT TREATING TOOTH LOSS?
Our team wants to help you enjoy a full and functional smile with lifelike dental implants. To learn more about replacing one or more missing teeth, then call James Stewart, DDS, dental implant office in Livonia, MI, at (734) 425-4400. We also serve the residents of Farmington, Plymouth, Dearborn Heights, and all surrounding communities.