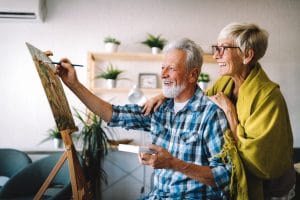 Typically, the process of receiving dental implants meant one visit to insert the new tooth roots, or implants, with months to go before the prosthetic is placed. However, your Livonia, MI, dentist can help address severe tooth loss, often in a single day, with advanced implant dentistry. In today's blog, we're going to look at the benefits of Teeth-In-A-Day!
The Benefits of a Dental Implant
First, what makes a dental implant different from bridges or removable dentures? First, there is no need to rely on suction or crowns and metal clasps attached to natural teeth. Instead, this is a free-standing option, with the screw-like dental implants inserted into the jawbone that bond with the jawbone through osseointegration. Not only does this stimulate jawbone tissue to prevent the loss of mass and density following tooth loss, but the new tooth root could stay in a place for decades to come, possibly even a lifetime.
The Parts of an Implant Denture
First, we have the new roots the dentist places initially. The amount inserted per arch varies, but we can often support one with only four specially placed dental implants. Next, we attach the prosthetic, or the denture. The prosthetic will be crafted based on detailed impressions and images we take of your smile, ensuring they not only look lifelike, but fit comfortably and provide a durable and dependable chewing surface that absorb common bite forces. Once attached, they don't need to be removed for soaking or cleaning, and never slip when you eat or speak, providing a stable and esthetically-pleasing solution to advanced tooth loss.
Teeth-In-A-Day
As we touched on above, often placing them means a wait between the implant bonding with the jawbone and a chance to attach the finished denture. However, with Teeth-In-A-Day, we insert the implants in the same visit, attach a prosthetic so you leave with a complete smile. You may return at a later date to receive your final, custom-made denture, but either way you never have to walk around with a tooth-less smile. We will first make sure your smile is free of underlying health issues that could threaten your new smile, and if you've lost significant jawbone tissue, we may suggest a jawbone grafting or ridge augmentation procedure first. If you have any questions, then contact our team today.
DO YOU HAVE QUESTIONS ABOUT IMPLANTS IN ONE DAY?
Just because you have multiple missing teeth, doesn't mean you should expect months to elapse before enjoying a whole smile again. To learn more about addressing more severe cases of tooth loss, then call James Stewart, DDS, dental implant office in Livonia, MI, at (734) 425-4400. We also serve the residents of Farmington, Plymouth, Dearborn Heights, and all surrounding communities.