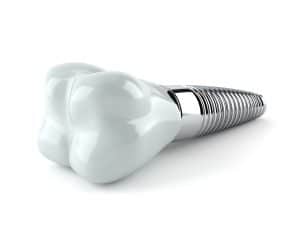 When we lose one tooth, this could leave behind an embarrassing gap in your smile. Along with this unsightly space, comes the risk of misalignment and other complications. However, your Livonia, MI, dentist can help with a custom-made dental implant and crown, which addresses minor tooth loss and has the potential to last for decades to come!
A Solution for Minor Tooth Loss
If a single tooth is lost, then the surrounding teeth could drift slightly, causing misalignment. With poor alignment, comes a greater risk of tooth decay and gum disease. In addition, the body actually suspends the flow of calcium and phosphorus to the jawbone around the missing tooth. As the jawbone loses mass and density, the risk of further tooth loss only increases. However, by replacing the missing tooth with a dental implant, you fill this gap and protect your smile from serious complications.
The Dental Implant
The dental implant portion is a screw-like device that is made from titanium. Since titanium is biocompatible, it actually bonds with the jawbone and acts like a new tooth root. This prevents the loss of mass and density, reducing the risk of further tooth loss. This also ensures your new tooth root lasts much longer than bridges and dentures, often for decades or even a lifetime in some cases. We choose the angle of placement very carefully, ensuring the new root can withstand the pressures that natural teeth face each day!
The Crown
Once the root portion bonds with the jawbone, you return to the office so we can attach an abutment. The abutment will hold a crown in place, addressing the visible portion of your new tooth. The crown is often made from ceramic, a material that can be shaded to match the color of surrounding teeth and blend seamlessly with the smile. The crown also absorbs serious bite forces and pressure, allowing you to eat your favorite foods again and smile with confidence. If you have any questions about addressing tooth loss, or about the benefits of implant dentistry, then please contact our team today. We will schedule a consultation to see if this is the right choice for your smile.
DO YOU HAVE QUESTIONS ABOUT REPLACING LOST TEETH?
Don't live with that embarrassing gap in your smile, talk to our team about a secure and durable solution. We want to make sure you continue to enjoy your favorite foods and smile without hesitation. Addressing tooth loss not only improves smile beauty, but your overall oral health as well. To learn more about our long-lasting solutions for missing teeth, call James Stewart, DDS, dental implant office in Livonia, MI, at (734) 425-4400. We also serve the residents of Farmington, Plymouth, Dearborn Heights, and all surrounding communities.