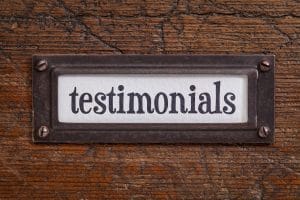 We know that you appreciate the reassurance and the education that we provide for you when you're thinking about dental implants for yourself. However, we also know that when you want to talk with someone who has actually received care from our practice, it can leave you wishing that this was a possibility. Yes, we can tell you everything will be fine. However, a patient who has seen us for care and can give you a bit of insight just might help. Try looking over our testimonials for this extra bit of inspiration.
What You Can Expect
All you have to do is hop onto our website and begin scrolling through our testimonials page. You'll find testimonials from our patients who have received all sorts of dental care from us, while you take in their personal stories and frequently, their heartfelt messages. As a result, we hope you will feel much more comfortable and confident about choosing dental implants with us. Remember, if you have any additional questions, we will be more than happy to provide you with the information you need.
What You Might Notice
You won't see a bunch of testimonial comments in the usual comment format you expect from websites. Instead, you will see the actual documents uploaded to our site. Some are typed. Some are handwritten letters. All are personal accounts of patients' unique experiences with our practice! You'll notice that we see a diverse array of individuals requiring our care, patients of all ages, and we would love to see you next. Let us know when you're ready to begin with dental implants by giving us a call to schedule an appointment.
Ask About Implants By Scheduling An Appointment
Don't wait any longer to schedule an appointment with our team if you're thinking it's time to consider implants for your smile. James Stewart, DDS, and our team serve patients from Livonia, MI, as well as Farmington Hills, Farmington, Plymouth, Northville, Novi, Dearborn Heights, Dearborn, Garden City, Westland, Redford, and the surrounding communities. To schedule a consultation, call our office today at (734) 425-4400.