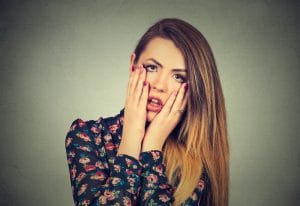 When you're doing your absolute best but you don't think you're getting your dental implants clean, it can feel a bit defeating. However, rather than give up or feel stuck, we encourage you to consider a handful of suggestions we frequently make to our patients. In most instances, you just need a little bit of guidance to get your daily maintenance (and long-term maintenance) back on track.
Check Your Brushing
First, check in on how well you're adhering to proper brushing. Consider the following to see if you're still on track with brushing your natural teeth and dental implants:
Use a soft-bristle brush accepted by the ADA
Use fluoridated, nonabrasive toothpaste
Brush two times daily, once in the morning and again at night
Don't press very hard; use a light hand and brush for two minutes
Check Your Flossing
Now, about your flossing. If you're doing a good job, you're removing the debris from between teeth and around dental implants. Take the following into consideration:
Use ADA-accepted floss in a flavor you enjoy
Floss between all teeth, beginning beneath the gumline
Floss around your implant post ensuring you complete a thorough job
Check In On Your Professional Care
If you're not coming in for your checkups and cleanings every six months, you might be feeling some plaque or tartar buildup on your smile. Make sure you're on top of this part of your dental care for complete dental implant protection.
Come In
When you're doing your best but you can't seem to get it right, come on in. We would be more than happy to go through the details with you regarding how to best care for your dental implants!
See Us For Questions About Your Implants
When you have concerns about your dental implants, feel free to set up a visit with us, so we may ensure everything is looking good, while we offer helpful advice. James Stewart, DDS, and our team serve patients from Livonia, MI, as well as Farmington Hills, Farmington, Plymouth, Northville, Novi, Dearborn Heights, Dearborn, Garden City, Westland, Redford, and the surrounding communities. To schedule a consultation, call our office today at (734) 425-4400.