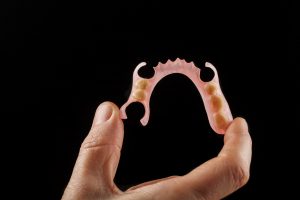 In our last blog, we looked at how a bridge addresses between one and three teeth in a row. But what if you have enough teeth that a completed denture isn't necessary, but you have too many gaps spread out across your smile to receive treatment with a bridge? In these situations, your Livonia, MI, dentist may secure a partial with multiple dental implants.
When Do You Need a Partial?
A partial is a prosthetic designed to address cases of tooth loss that are too severe for a bridge or individual dental implant, but not severe enough to require extraction and the placement of a complete denture. The prosthetic itself will contain multiple new teeth, known as pontics, set in an acrylic base that mimics the appearance of gum tissue. Typically, there will be metal clasps that attach to regular teeth and secure your prosthetic. However, with implants we don't need a clasp, which also means they have the ability to last for decades to come, even a lifetime in some cases.
Crafting What People See
We take care to design and craft a prosthetic that not only ensures a properly balanced bite and comfortable fit, but also offers a lifelike appearance. For the new teeth, we may use materials such as ceramic or zirconia, which absorbs bite forces and provide a durable chewing surface. The material can also be color-matched to blend with the rest of your smile, so you can smile with confidence!
Implant Placement
The digital images and impressions we take to design your prosthetic will also help us plan the placement of multiple dental implants. Each one will be guided in place with advanced digital technology, so they avoid sensitive nerve tissues and also best support a new denture, stimulating the growth of bone tissue to prevent the loss of mass and density that typically follows tooth loss and causes negative changes to the jaw ridge. Your facial structure and jaw ridge doesn't change shape with time, allowing your prosthetic to last much longer. We then affix the completed denture these posts, sometimes in the same visit. You don't need to remove them for cleaning or soaking, and they will never slip when you eat or speak.
If you have any questions about how we design and create a denture, and how we support them with multiple dental implants, then contact our team today. Let's start your journey to a full smile!
DO YOU HAVE ANY QUESTIONS ABOUT IMPLANT PARTIALS?
We know how to address missing teeth with a long-lasting and secure replacement option. To learn more about our custom-made dental prosthetics, then call James Stewart, DDS, dental implant office in Livonia, MI, at (734) 425-4400. We also serve the residents of Farmington, Plymouth, Dearborn Heights, and all surrounding communities.