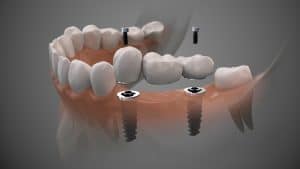 Bridges can be held in place with crowns, while partials typically need metal clasps. However, to provide these prosthetics, but ensure they last much longer and provide greater security, we can use dental implants instead of crowns or clasps. In today's blog, your Livonia, MI, dentist explains how we support them with dental implants.
The Long-Term Impact of Untreated Tooth Loss
What does tooth loss do to your smile? Well, aside from the embarrassing gaps in your smile, your body will respond to missing tooth roots by suspending the flow of certain nutrients to the bone tissue. Without regular doses of calcium and phosphorus, this could mean the jawbone breaks down over time. Not only do you suffer further tooth loss, but you could develop an aged appearance too. Other complications include difficulty eating and speaking. For others, misalignment could occur as teeth drift due to the gaps in your smile.
Dental Bridges
A dental bridge is a way to address multiple missing teeth in a row. Typically, they consist of one or more new teeth with crowns attached to each end. The crowns will be placed onto abutment teeth, the natural ones sitting on either side of the gap. However, with dental implants we insert new roots to attach the crowns too, preserving natural tooth structure and providing a prosthetic that lasts much longer. Since the body sees dental implants as natural roots, this stimulate the growth of jawbone tissue, halting the loss of mass and density that causes tooth loss and an older appearance. Your new teeth can then last for decades to come, instead of 10-15 years only.
Partial Dentures
A partial addresses more than one gap in your smile, and is perfect for people missing too many teeth to be handed with a bridge alone, but too many to require a full prosthetic. Instead, we have new teeth set in an acrylic base that looks like gum tissue. In traditional versions, there are metal clasps that attach to natural teeth to ensure a denture, one that lasts on average 5 to 10 years, requiring replacement as the jaw ridge changes shape due to lost mass and density. However, since dental implants prevent this, we attach a fixed denture that never slips, and one that could last for several decades with proper care and attention. If you have any questions about treating tooth loss, the contact our team today.
DO YOU HAVE QUESTIONS ABOUT OUR IMPLANT BRIDGES?
Our team wants to help you obtain a full and beautiful smile with custom prosthetics. To learn more about improving the health and beauty of your smile, then call James Stewart, DDS, dental implant office in Livonia, MI, at (734) 425-4400. We also serve the residents of Farmington, Plymouth, Dearborn Heights, and all surrounding communities.