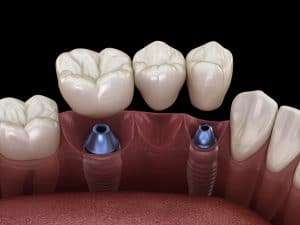 If you lose one to three teeth in a row, then you may need a bridge to restore function and beauty to your smile. However, for a longer-lasting option, your Livonia, MI, dentist may suggest securing them with implant dentistry. While we can't provide treatment outside of emergency care at the moment, as soon as we can open our doors, we would like to help you enjoy a full and beautiful smile.
When Do You Need a Bridge?
A dental bridge is a prosthetic designed to address minor cases of tooth loss. Typically, the prosthetic is held in place with crowns, which are attached to natural teeth on either side of the gap in the smile. While effective, they do need replacement every 10 to 15 years.
By addressing your tooth loss, you avoid the onset of dental misalignment, which could happen as teeth begin to drift from position due to the gaps in the smile. Missing teeth are also connected to higher risks of TMJ disorder and bruxism (teeth grinding), and could make eating your favorite foods or smiling with confidence a difficult prospect.
The Advantages of a Dental Implant
Once our doors can open again, schedule an appointment to talk about your missing teeth. We will examine your smile and assess the cause and severity of your tooth loss. For minor cases, we may recommend a bridge. We take detailed impressions of your smile with digital technology, and then design the prosthetic. Instead of using crowns to hold the new teeth in place, we insert dental implants into the jawbone at angles designed to absorb bite forces and remain in place for decades, even a lifetime in some cases. We then attach the custom-made prosthetic, which is created to look natural and blend with your smile.
Avoiding Tooth Loss
If you're worried about tooth loss, especially if you have gum disease, then routine care is essential until you can see your dentist once again for preventive treatments. We suggest taking time to brush your teeth when you wake up and again before bed. Each session should last about two minutes, and we also urge people to floss before going to sleep as well. Avoid cigarettes or tobacco products, which could worsen the severity of gum disease and lead to a higher risk of missing teeth and cancer. If you have any questions about replacing lost teeth or about avoiding tooth loss, then contact our team today.
DO YOU HAVE QUESTIONS ABOUT IMPLANT BRIDGES?
Our team would like to help people with missing teeth enjoy a full and functional smile with advanced implant dentistry. To learn more about dental implants and emergency dentistry, call James Stewart, DDS, dental implant office in Livonia, MI, at (734) 425-4400. We also serve the residents of Farmington, Plymouth, Dearborn Heights, and all surrounding communities.