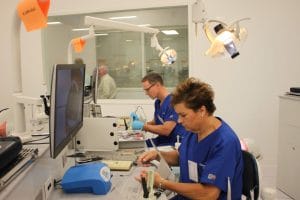 The amazing news that our Livonia, MI team would love to share with you is: Your Livonia dentist recently completed a training course in providing Teeth in a Day. This is a dental implant treatment in which you may receive implants and restorations in one visit. The not so great news? We are aware that there are some implant centers out there that offer the same type of treatment but we worry our patients will overlook the fact that receiving such care from a dentist (with whom you establish a relationship) is extremely significant! Learn more about why!
Your Dentist Knows Your Smile History, Present, And Future Plans!
How's your jawbone health? Did you lose your teeth due to periodontal disease? What types of issues have you had in the past, what's your oral health looking like today, and what are your long-term goals for your smile? These are questions that our team can answer in terms of you and your smile needs, goals, and dreams. This knowledge makes it easy for us to consider the entirety of your smile, as we craft plans for you to receive Teeth in a Day. When you visit an implant center, you don't experience care based on this built-in knowledge because it simply doesn't exist!
We Take A Comprehensive Approach
When you've been visiting our team for your care, we know you on a more in-depth level. We become familiar with your dental history, of course, and we become very familiar with your overall health. When you're considering receiving any type of surgery, oral surgery included, it's very important that the whole of your well being is taken into consideration. When you stop into an implant center, you may be accessing oral surgeons but you do not access an oral surgeon with whom you have a relationship. Ensure you're making wise choices for your overall health by receiving your Teeth in a Day dental implants with our team! We are happy to collaborate with you and your doctors for your best experience.
Ready For Your Lifelong Follow-Up?
Yep, when you receive Teeth in a Day dental implants or any other treatment from our team, you are going to get to enjoy follow-up visits with us for life! As you continue to come in for your preventive dental care and any other support your oral health requires, we will continue to monitor the health and well being of your tissues, your implants, your restorations, and the many other details that make up your oral environment! This makes for easy maintenance and a smile that remains complete and in amazing condition for life.
See Us For Teeth In A Day
Choose to receive your dental implant treatment from our team of dental professionals, so you may look forward to personalized care that's suited to your every need and that promotes long-term oral health. James Stewart, DDS, and our team serve patients from Livonia, MI and the surrounding communities. To schedule a consultation, call our office today at (734) 425-4400.