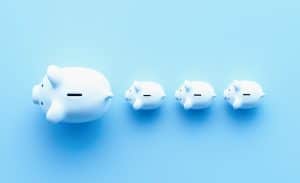 It's easy to get excited about dental implants, to feel confident about what they can do, and to recognize that they are very unique amongst all of your possible tooth replacement options. However, what you may wonder about is whether they're worth it. In fact, you may go so far as to wonder whether they're worthy of multiple types of investments, as you are not only putting money into your decision but also a lot of time, effort, and more! Will there be a sense of satisfaction as you go through life after having received implants, you wonder? Take a moment with our Livonia, MI team as we explain (hint: They're definitely worth it!).
About The Financial Details
When you think about investing in dental implants, your primary concern may include the financial side of things. Is this just a very expensive way to replace missing teeth? Or, is the suggestion that implants are actually exceptionally cost-effective actually true? Here's what you can remember: Implants aren't going to require work or replacement. So, your investment is a one-time thing. You may find that you replace restorations on occasion. However, when you consider the benefits implants offer and the longevity (generally for life), the investment is a sound one indeed!
In Terms Of Your Time
We know that another big detail that comes up quite frequently is your time. Are you really making good use of your time by spending around a year or so receiving dental implants, restorations, and getting your smile back to a state of completion? Or, should you just stick with traditional prosthetics? In this case, again, we focus on longevity. It takes longer than traditional tooth replacements, yes. However, the results may last for life, they will give you exceptional protection and function, and you cannot ask for more than that!
The Emotional Payoff
Yep. The investment of your emotions into dental implants is going to be worthwhile. As for their lifelong ability to last, they enjoy a success rate of about 98 percent, so this is a very real benefit. In addition, you will have replicated your natural smile to the best of your ability by selecting implants (the only way to replace roots, which will protect your jaw health and your youthful appearance), which means long-term oral health protection, function, and beauty too.
Learn About Investing In Implants
Find out more about what makes dental implants a wise investment in a wide variety of ways, from the financial to the emotional, and more! Simply come in for a consultation with our team for personalized details. James Stewart, DDS, and our team serve patients from Livonia, MI and the surrounding communities. To schedule a consultation, call our office today at (734) 425-4400.